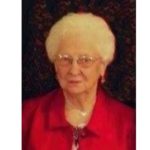 Wilma Boes, age 97 of Carroll and formerly of Breda, passed away on Wednesday, June 2, 2021 at St. Anthony Regional Nursing Home in Carroll.
Mass of the Christian Burial will be Celebrated at 11 a.m. on Tuesday, June 8 at. St. Bernard Catholic Church in Breda. The Celebrant will be Fr. Timothy Schott with Fr. Timothy Friedrichsen as the Concelebrant. Music will be provided by Jane Heithoff and Kathleen Macke. Mass servers for the service will be Carter Pudenz and Colby Pudenz. Lectors will be Tamara Lux, Tara Thomsen, and Tasha Badding. Eucharistic Minister will be Rita Hoebing. Honorary Casket Bearers will be Tim Pudenz, Russ Pudenz, Neil Pudenz, Tom Pudenz, Greg Pudenz, Wayne Pudenz, Steve O'Tool, and Dean O'Tool. Casket Bearers will be Kevin Lux, Mark Thomsen, Ron Badding, Nate Lux, Gabe Lux, Parker Badding, Jack Lux, and Brock Badding. Burial will follow the service in St. Bernard's Cemetery in Breda.
A visitation will be held on Tuesday from 9 a.m. until 10:30 a.m. at the church.
A livestream of Wilma's funeral mass will be available on Christ the King Facebook page at https://www.facebook.com/ChristTheKingCathollicCommunityBredaIowa/.
In lieu of flowers, memorial contributions may be made to St. Anthony Hospice in honor of Wilma.
Funeral arrangements are under the guidance of the Sharp Funeral Home in Carroll, and online condolences may be left for Wilma's family at www.sharpfuneral.com.
Wilma was born on January 17, 1924, the 6th of 12 children of Frank and Mayme (Wiederin) Pudenz. She lived her entire life in the Mt. Carmel and Breda area. She attended school at Our Lady of Mt. Carmel School through the 8th grade, after which she stayed home to help her family and the younger siblings.
On April 30, 1946, Wilma and Edmund Boes were married at Our Lady of Mt. Carmel Church by the Rev. Peter M. Sturm following Edmund's discharge from the Army after he served during WWII. The couple farmed the Boes family farm 1 ½ miles northwest of Breda until 1958 when they were moved to their farm 3 miles northeast of Breda. Wilma and Edmund retired from farming and moved into Breda in 1984. Wilma moved to Carroll in 2017 when her health began to fail.
Wilma was an active farm wife and mother. She was a 4-H leader for many years and helped with the kids at the County Fair. Wilma enjoyed gardening, having lots of vegetable and flower gardens. She especially enjoyed sewing, quilting, and crocheting and continued to crochet baby blankets for St. Anthony Hospital Auxiliary well into her 90s. Her children, grandchildren, and great grandchildren have all been gifted many of those quilts and blankets. Wilma loved to read having quite a collection of books, she enjoyed doing puzzles, crossword puzzles and word searches, and she loved watching Jeopardy on television. Wilma enjoyed her card clubs with several friends and neighbors who played "500" for several decades. She and Ed enjoyed traveling for a couple weeks each winter with another neighbor couple. After Ed's death, Wilma still traveled with bus tours throughout the country. She enjoyed following sports, especially Iowa State, Iowa, and Creighton basketball, and the activities with her family. She loved filling in a bracket for March Madness and would check off her teams as the tournament progressed. She was her family's biggest fan in whatever they were doing.
Wilma was a member of St. Bernard Parish, the Christian Mother Sodality, the Catholic Order of Foresters, the Breda Legion Auxiliary, and the St. Anthony Hospital Auxiliary. She attended daily mass as long as she was able and prayed the Rosary daily throughout her life, something her family did together even as young children with her mother leading them in prayer.
Wilma is survived by her children: Carol (Gary) Stark of Carroll, and Larry Boes of New York City, New York; three granddaughters: Tami (Kevin) Lux of Cedar Rapids, Tara (Mark) Thomsen and Tasha (Ron) Badding all of Carroll; ten great grandchildren: Nate, Gabe, and Jack Lux; Kennedy, Karsyn, and Kora Thomsen; and Parker, Mallory, Sophie, and Brock Badding; her brother and two sisters: Richard (Bea) Pudenz of Carroll, Edna Knobbe of Rose Creek, Minnesota, and Rita (John) Hoebing of Columbus, Nebraska; sisters-in-law: Bernice Pudenz and MaryAnn Pudenz; brother-in-law, Earl Boes; and many nieces, nephews, cousins, and friends.
She was preceded in death by her husband Edmund on November 10, 1987; her son Gary on March 7, 1996; her parents Frank and Mayme Pudenz; her siblings Dorothy (Lawrence) O'Tool, Julitta (James) O'Tool, Wilbur (Clarise) Pudenz, Edwin (Leota) Pudenz, Leonard Pudenz, Leroy (Jean) Pudenz) Herbert (Mae) Pudenz, and James (Mary) Pudenz; brother-in-law Lenus Knobbe; and a brother in infancy, Joseph.