POSITION AVAILABLE: ASSISTANT NEWS DIRECTOR / ANNOUNCER
Carroll Broadcasting is looking for an Assistant News Director/Announcer position responsible for gathering, writing and on-air reporting of area and state news on all three stations along with a daily on air shift as well. This position reports primarily to the News Director as well as working with the rest of the staff in other on-air duties and coverage. Full benefits package available including health, dental, Simple IRA and more. To Apply, send your resume and any audio demos to john@carrollbroadcasting.com. Carroll Broadcasting is an equal opportunity employer.
Job Duties
Record and produce daily newscasts.
Conduct interviews with local newsmakers.
Report on local school board meetings and track surround school district happenings.
On-air shift on KCIM weekdays
Work every third weekend
Skills
Strong communication skills a must.
Basic use of audio editing software (training available).
Must be self-driven. Work will often be completed without direct oversight.
_________________________________________________________________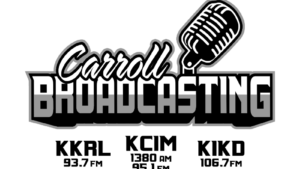 Marketing Specialist
Success in business is all about building a relationship with customers, understanding their needs, and achieving their goals together. Opportunities don't just happen; you create them.
I'm Kim Hackett, General Manager at Carroll Broadcasting Company, if you have a desire to help people, develop partnerships, and to be a part of a fun team, we want to talk to you! If you are outgoing, organized, and persistent, we want to talk to you!
If you possess these skills, an opportunity exists right now in our marketing department. Our client's success is your success!!
If this is what you are looking for, then send us a resume at kim@carrollbroadcasting.com. Carroll Broadcasting is an equal opportunity employer.
EEO File is included in the links below