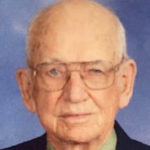 Hanford Voyles age 98 of Lytton, IA passed away on Easter Sunday, April 4, 2021 at Park View Rehabilitation Center in Sac City, IA. Hanford Gerald Voyles was born on April 24, 1922 in Coon Valley Township, Sac County, IA to parents Vernon and Carrie (Witten) Voyles. Hanford was the oldest of six children. His father died when he was eight years old and he was then raised in the home of Sam and Martha Morrison. Hanford attended country school through the eighth grade at Coon Valley #3 and graduated from Sac City High School with the class of 1941. After graduation Hanford enlisted to serve his country with the U.S. Army from 1945 to 1946. He was stationed at Northern Luzon, just north of the Philippine Islands.
On November 21, 1948, Hanford was united in marriage to Celia Meyer at the Emanuel-St.  John Lutheran Church in Lytton, IA. The couple farmed south of Sac City in Section 6 of Coon Valley Township. To their union they were blessed with two sons, Maurice and David. In 1981 Hanford and Celia moved to Celia's home farm north of Lytton in Garfield Township where they continued to farm. Celia passed away on March 24, 1995. Their son, Maurice, passed away on October 27, 1996.
For many years Hanford enjoyed living the farm life where he raised hogs, farmed the ground, and spent lots of time outside gardening and mowing. He was a farmer at heart. He enjoyed watching all sports and loved cheering on the Iowa State Cyclones. Hanford's faith in God was very important to him. He was a lifelong member of the Emanuel-St. John Lutheran Church in Lytton, where in his later years he enjoyed tying quilts for the missionaries during Do-Days. He helped mow the north church cemetery where Celia was buried. Hanford cherished his time spent with his grandchildren and great-grandchildren attending sporting events, church and school programs, and watching them show their livestock projects. In the fall of 2014 Hanford was a proud member of the Military Veteran Honor Flight flying from Fort Dodge, IA to Washington, DC where he was met by his son David to spend the day. In later years Hanford received two Quilts of Valor which were a source of pride for his service to our country.
Survivors are his son David Voyles and wife Mary of Marinette, WI, daughter-in-law Sandra (Loren) Wuebker of Rockwell City, IA, grandchildren: Sara (Tim) Fischer of Sherwood, OR, Reggie (Sarah) Voyles of Sac City, IA, Ryan (Leann) Voyles of Delta, IA, and great-grandchildren: Gabe, Lainey, Grant, and Caroline Fischer, William, Landon, and Millie Voyles, Colten, Levi, and Reagan Voyles, sister Audrey Reilly of Walnut Creek, CA, many nieces, nephews, friends, and special friend Lorene Hinrichs.
Hanford is preceded in death by his wife Celia, son Maurice, parents, step-father Glenn Crilly, and siblings Shirley Lovstad, Norma Engstrom, Rex Voyles, and Vernon Voyles.
In lieu of flowers please direct memorials to Emanuel-St. John Lutheran Church.
Funeral Services will be held at 10:30 a.m., Friday, April 9, 2021, at the Emanuel-St. John Lutheran Church in Lytton, IA with Pastor Ben Worley officiating. Burial will take place at the St. John Lutheran Cemetery under the direction of Farber & Otteman Funeral Home. Visitation will be held prior to the service starting at 9:00 a.m., at the church.