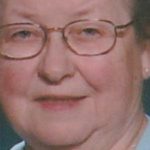 Janet Sander, age 77, of Arcadia, died Saturday, March 27, 2021 at Iowa Methodist Medical Center in Des Moines, Iowa.
Mass of the Christian Burial will be celebrated at 10:30 a.m. Tuesday, April 6, 2021 at St. John's Catholic Church in Arcadia. The Celebrant will be Fr. Timothy Pick with Fr. Richard Remmes concelebrating. Mass Servers will be Owen and Grant Nepple. Honorary Mass Server will be Hank Schroeder. Music will be by Sharon Bierl. Lector will be Jeff Sander. Honorary Gift Bearers will be Amy Stadtlander and Niki White. Casket Bearers will be Roger Gallagher, Patrick Gallagher, Keith Sander, Adam Sander, Ron Lenz, and Randy Lenz. Burial will be in the parish cemetery.
Visitation will be held from 5-7 p.m. on Monday (April 5) at the Sharp Funeral Home in Carroll. There will be no public visitation prior to the funeral mass on Tuesday morning. Those in attendance of Janet's services are required to wear a face covering and abide by social distancing practices.  Funeral arrangements are under the guidance of the Sharp Funeral Home in Carroll, and online condolences may be left for Janet's family at www.sharpfuneral.com. Janet, the daughter of Leonard and Lucille (LeRoy) Gallagher was born on December 3, 1943 in Carroll, Iowa. She grew up near Vail and attended country school, St. Ann's School in Vail, and Kuemper Catholic High School in Carroll. She attended Mount St. Clare College in Clinton. Janet returned to the area, and began working at the Arcadia Coop.
On September 9, 1967 Janet was united in marriage to LeRoy Sander at St. Ann's Catholic Church in Vail. The couple made their home east of Arcadia for a brief time before settling on the current homestead north of Arcadia.  Janet continued to work at the Arcadia Coop until the couple welcomed their first child. Janet then became a devoted homemaker, raising, and attending to the family.
Janet was a member of the St. John Christian Mothers, and St. John's Parish, serving as organist for a brief time.  She also enjoyed many hobbies over her life time, from steam locomotives to tracking the different train engines as they crossed the country; camping with friends and playing cards with family. Feeding many different birds and seeing if she could attract certain types provided a lot of enjoyment. She also loved music and playing the organ.  In her youth, she also showed cattle for 4-H. The best way to describe Janet is her love of the "Little Things in Life". From a beautiful rainbow after a storm, the sweet smile of the little ones, or looking for a comet or planet in the midnight sky.
Janet is survived by her husband LeRoy Sander of Arcadia; children: Patricia (Thomas) Bryant of Bowie, MD, Michael (Julie) Sander of Altoona, Lori Sander of Des Moines, and Eric (Tarra) Sander of Des Moines; 7 grandchildren: Christa Sander, Kurtis (Bailey) Sander, Amy (Styles) Stadtlander, Derrick (Sophia) Sander, Cannon Kuper, Jenna Sander, Charles Sander; and two great-grandchildren: S.J. and Declan Stadtlander.  Also surviving is a brother: Duane Gallagher of Omaha; her mother-in-law: Frances Sander of Carroll; Janet's sisters-in-law and brothers-in-law: Kathryn Gallagher of Apache, OK, Eileen Sander of Carroll, Bob (Ann) Lenz of Carroll, LouAnn (Tom) Kneifl of New Castle, NE, Steve (Jan) Sander of Carroll, Paul Sander of Arcadia, Mary (Chuck) Thatcher of Breda, Allan (Jacie) Sander of Arcadia, David (Joleen) Sander of Carroll, and John (Marilyn) Sander of
Omaha, as well as many nieces, nephews, and other extended relatives and friends.
Janet was preceded in death by her parents: Leonard and Lucille Gallagher, her father-in-law: Anthony Sander; her siblings: Don Gallagher, and Eugene (Shirley) Gallagher; sister-in-law: Jean Lenz; and brothers-in-law: Denis Sander and Mark Sander.