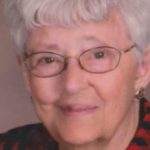 Rosella Schelle, age 95, of Carroll and formerly of Breda, died Monday, October 19, 2020 at St. Anthony Nursing Home in Carroll.
A Private Funeral Mass will be held at 11 a.m. Friday, October 23, 2020 at St. Bernard's Catholic Church in Breda.  The Celebrant will be Fr. Timothy Friedrichsen. Music will be by Marilyn Hundling with Mark Caraher as soloist. Lectors will be Rachel Schroer, Heidi Mart, and Melissa Montiel. Casket Bearers will be Chris Jenkins, Jeff Tiefenthaler, Brian Tiefenthaler, Lindsey Wanninger, Tyler Wanninger, Nicholas Wanninger, Brett Wanninger and Jennifer Mueller. Private burial will be in St. Bernard's Cemetery in Breda.
Public visitation without the family present will be held from 6-7 p.m. Thursday at the Sharp Funeral Home in Carroll. Those in attendance of the visitation will be required to wear a mask and abide by COVID 19 Restrictions.  A livestream of the funeral mass will be available at the time of the service on the St. Bernard's Catholic Church Facebook Page at www.facebook.com/ChristTheKingCathollicCommunityBredaIowa/
Those wishing to mail a memorial may direct it to The Family of Rosella Schelle, C/O The Sharp Funeral Home, 226 W. 8th Street, Carroll, IA 51401.  Funeral arrangements are under the direction of the Sharp Funeral Home in Carroll, and online condolences may be left for Rosella's family at www.sharpfuneral.com.
Rosella, the daughter of Frank and Laura (Sievers) Skalla was born on March 21, 1925 at her parent's farm in Sheridan Township. At the age of ten the family moved to Calhoun County until 1936, when they settled on a farm near Scranton. Rosella graduated from Scranton High School where she was a baton twirler in the marching band.  She loved her 4-H years and was a leader for a year. She also enjoyed roller skating and going to dances, in which she would continue to do with her husband Wayne. After graduation she worked in Jungs Bakery and Carroll County State Bank.
On July 14, 1948 she was united in marriage to Wayne Schelle at St. Paul's Catholic Church in Scranton. The couple settled in Breda where Rosella was a devoted homemaker. After the passing of Wayne in 1995 Rosella remained in Breda until 2004 when she moved to Carroll.
Rosella was a huge Elvis Fan and enjoyed various collections. She also enjoyed watching the Kansas City Royals.  Rosella was an excellent cook and loved to bake. She had a very deep love for her family and enjoyed being a part of their lives and attending all their activities. She like to tell jokes and would laugh as she told them.
Left to celebrate Rosella's life are her daughters: Judy (Mark "Ernie") Tiefenthaler of Carroll, Jane (Joe) Espenhover of Carroll, Jalynn (Todd) Wanninger of Carroll; 11 grandchildren: Chris (Cammy) Jenkins of Urbandale, Jeff Tiefenthaler of Dallas, TX, Brian (Kayla) Tiefenthaler of Breda, Rachel (Ryan) Schroer of Omaha, Heidi Mart of
Waukee, Melissa (Gerry) Montiel of Henderson, NV, Jennifer (Kyle) Mueller) of Omaha, Lindsey Wanninger of Des Moines, Tyler Wanninger of Lake View, Nicholas Wanninger of Denver, CO, and Brett Wanninger of Carroll; 8 greatgrandchildren: Lauren and Emily Jenkins, Kaylie Tiefenthaler, Thomas and Matthew Schroer, Brady Mart, and Maxwell and Emilia Montiel; two sisters-in-law: Lois Roets, Mary Schelle; and brother-in-law: Ron (Pat) Schelle, as well as many nieces, nephews, and other extended relatives.
Rosella was preceded in death by her parents: Frank and Laura Skalla, her husband Wayne Schelle, in 1995; siblings: Marion Kraus, Junior (Mildred) Skalla, Richard (Lois) Skalla, and Donald Skalla. Her parents-in-law: Charles and Mary Schelle, and her sisters-in-law and brothers-in-law: Merle (Mildred) Schelle, Bill (Marita) Schelle, Norma (Fred) Kennebeck, Jean (Lenus) Thelen, Nyle Schelle, and Phil Roets.