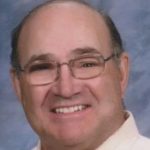 Philip Collison, 73 of Arcadia, died Tuesday, October 20, 2020 at his home near Arcadia.
Mass of Christian Burial will be celebrated at 10:30 a.m., Tuesday, October 27, 2020 at St. John Catholic Church in Arcadia. The Celebrant will be Fr. Timothy Friedrichsen. Music will be by Sharon Bierl. Lector for the Funeral Mass will be Michael Schulte. Honorary Casket Bearers will be Curt Collison, Thomas Huff, Leon Schulte, Ray Pille, Justin Kissel, Thomas Pille, and Jack Cosgrove. Casket Bearers will be Michael Schulte, Nicholas Schulte, Rick Schulte, Brian Kissel, Michael Kohorst, and Tyler Kohorst. Burial will be in St. John Cemetery in Arcadia with Military Honors conducted by the Arcadia American Legion.
Visitation without the family present will be from 5-6 p.m. on Monday, October 26, 2020 at the Sharp Funeral Home in Carroll. Those attending the visitation and the Funeral Mass are required to wear a face covering.
In lieu of flowers memorials may be left at the funeral home or mailed to Philip Collison Family, c/o Sharp Funeral Home, 226 W. 8th St. Carroll, IA 51401 for a later designation.
Funeral arrangements are under the guidance of the Sharp Funeral Home in Carroll and online condolences may be left to Phil's family at www.sharpfuneral.com. Born on October 25, 1946 near Arcadia, Iowa, Philip was the son of Milford and Toddy (Beyer) Collison. He attended St. John School in Arcadia and later graduated from Kuemper Catholic High School with the Class of 1964. On June 29, 1974, Philip was united in marriage to Linda Kohorst at St. John Catholic Church in Arcadia. The couple made their home on the family farm south of Arcadia where Phil was engaged in grain and livestock farming. He also served briefly with the National Guard and along with his farming career worked for Leroy and Sons in Arcadia.
Phil enjoyed hunting, fishing, golfing, and being outdoors. His greatest joy was spending time with his family and socializing with his many friends. Phil was a member of the Arcadia American Legion and St. John Parish in Arcadia.
Survivors include his son John and his wife Amy Collison and their son Ian of Marion; his sisters: Josephine Montalbano of Illinois, Susan (John) Cosgrove of Illinois and Nancy (Leon) Schulte of Westside; his sisters-in-law and brothers-in-law: Elaine (Dr. John) Kissel of Nebraska, Barb (Ray) Pille of Nebraska and Tammy Kohorst of Arcadia; as well as many nieces, nephews, other extended relatives and many friends.
Phil was preceded in death by his wife Linda in 1992; his parents, Milford and Toddy Collison;his parents-in-law, Vincent and Luella Kohorst; and his brother-in-law, Marlan Kohorst.