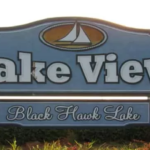 The Lake View City Council has pledged $500,000 in tax increment financing (TIF) funding towards the construction of a proposed community building on Black Hawk Lake's northern shore. Administrator, Scott Peterson, says city officials were approached by the Lake View Hometown Pride and Iowa Great Places Committee at Monday's council meeting.
Peterson adds the Hometown Pride Committee already has a clear list of what amenities the community center will have.
When completed, the building will be available for community events, graduation parties, wedding receptions, business meetings and other similar gatherings. The initial estimated cost for the structure is $1.45 million. Peterson says the project will have three funding sources.
Fundraising has not gotten underway quite yet, but Peterson expects the Hometown Pride Committee will be getting started with that very soon. A construction timeline will not be established until the fundraising goal has been met. Once completed, the community center would be owned and operated by the City of Lake View.