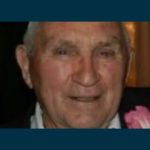 Duane Clayborn Baker, age 91, of Coon Rapids, IA, passed away on Thursday, October 15, 2020 at Thomas Rest Haven Nursing Home in Coon Rapids.
     A private funeral service will be held on Friday, October 30, 2020 at the Dahn and Woodhouse Funeral Home in Coon Rapids.  Casket bearers will be Jo George, Bob Mingus, John Hayden, Mike Ebner, John Waddle, and Cory Meyer.   Honorary casket bearers will be Buzz Kinnick, Dick Textor, Jerry Parker, Keith Dorpinghaus, Tom Meiners, Gary Johnston, Ronnie Hart, and Paul Scott.
      A public graveside service will be held at 2:30 P.M. on Friday, October 30, 2020 at Union Township Cemetery near Coon Rapids in Carroll County.  Military honors will be conducted by the Coon Rapids American Legion and the Iowa National Guard.
     Those in attendance at the graveside service are asked to abide by Covid-19 social distancing guidelines and facemasks are recommended.
     In lieu of flowers, those who wish may mail memorials to: The family of Duane Baker c/o Dahn and Woodhouse Funeral Home, 518 Main St., Coon Rapids, Iowa  50058
     Duane was born on October 19, 1928 in Spirit Lake, IA.  He was the son of Ed and Hazel (Yager) Baker.  He attend country school as a boy then his family moved to Coon Rapids in 1941.  He graduated from Coon Rapids High School in 1946.  Duane worked for Coast to Coast Hardware until he was drafted in to the United States Army in January 1951.  He was stationed in Ft. Riley, was shipped overseas to Korea. He fought in the Korean War and was honorable discharged in October 1952 for Ft Sheridan, Illinois.  He was married to Beverly Ebner on September 20th, 1953 at the United Methodist Church in Adel.  He continued to work at the hardware store.  In 1957 then worked with his father in law on a farm NW of Adel were he cultivated crop and milked cows.  In 1961, upon moving back to Coon Rapids we worked with Garst Co in the fertilizer division.  In 1971 he purchased the Standard Station until selling out and returning to Garst Co in 1979.  He retired in 1990 and then worked various jobs – Coast to Coast Hardware, Coon Rapids Farm and Home, Reis Lawn Care, Advanced Laser and trapping furs.  He was a member of the United Methodist Church in Coon Rapids.  He was a member of American Legion and a 25 year member of the CR Fire Department.  Duane enjoyed fishing, trapping, bowling, making snares/birdhouses/fishing seats.  He ran the chain gang for football games for many years.  Most of all Duane loved spending time going to sporting events, especially to watch his grandkids and great grandkids play.  He loved going to golf carts rides with mans best friend.  Also important to Duane was meeting new people and making new friends through conversations he would start up.
     Duane is survived by his wife Beverly Baker of 67 years of Coon Rapids; daughter Cindy Heydon (Ed) of Coon Rapids; son Richard Duane (Jessica) of Coon Rapids; six grandchildren: Jon Heydon (Jessica), Katie Pekny, Hannah Baker, Emily Baker, Cassidy Baker and Jace Baker.  Six great grandchildren: Cal, Ty, Blake, Eli Duane, Mya Heydon and Maddie Pekny.  A brother-in-law Ken Ebner (Mary) of Carroll, IA; nieces and nephews; other extended family members and many many good friends of all ages.
     Duane was preceded in death by his parents Ed and Hazel Baker; his mother and father-in-law Lewis and Elva Ebner; a brother Daryl; and three sister Geneva, Darlene and Mickey.