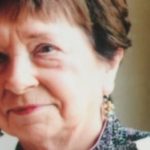 It is with great sadness we announce the passing of Alice Neppl Eischeid. Alice died on Monday, October 19, 2020 at Regency Park Nursing Home in Carroll.
A private family funeral service will be held at 11:30 a.m., Saturday, October 24, 2020 at the Sharp Funeral Home in Carroll with Fr. Timothy Schott officiating. Casket Bearers will be Karl Eischeid, Brian Eischeid, Justin Eischeid, Jon Sturm, Michelle Sturm and Kayla Eischeid. Burial will be in Mt. Olivet Cemetery in Carroll.  Public visitation without the family present will be held from 9-10 a.m. on Saturday at the Sharp Funeral Home in Carroll. Those attending are required to wear a face covering.  A Live Stream Broadcast and recording of Alice's service can be found by visiting the Sharp Funeral Home Carroll, Iowa YouTube Channel at this link:
https://www.youtube.com/channel/UCqd2eeRJk5RTdEJoEooUoAQ. An Icon on that page will be available by 11:25 a.m. on Saturday.  Memorials may be left at the funeral home or mailed to Alice Eischeid Family, c/o Sharp Funeral Home, 226 W. 8 th St. Carroll, IA 51401 and will be directed to Kuemper Catholic Schools and St. Anthony Regional Cancer Center.
It is now with great joy that we celebrate a life well lived. Alice was born May 20, 1928, in Halbur, Iowa, to Albert and Anna Renze Neppl. In Halbur she attended St. Augustine then in Carroll, St. Angela Academy. She and her classmates had great fun on the bus to Carroll. Alice met her future husband, John Eischeid, during her junior year there. Alice attended Nebraska Business School returning to Halbur to work as a bookkeeper at Farmers Elevator. During that time John served our country in Korea. He returned after a year bringing beautiful jewelry, clothes and shoes he had gotten for her while overseas. Alice and John married September 20, 1949. The following year they moved to Lidderdale to operate the Lidderdale Cash Market. Remodeling the space above the store into a home, it was there where they welcomed and raised their four children, Pam, Karl, Steve, and Jason. When the kids were grown, planning for college and looking forward to their futures, Alice and John moved to Carroll. The store had been sold; John worked for the postal service, and for a number of years Alice for GE. For many years Alice volunteered her time at St. Anthony Hospital in Carroll.
A very active couple, Alice and John belonged to groups centered on cards, golf, dinners, but mostly love and caring for one another. Faith was central to their everyday life. They loved God, never feeling despair knowing God loved them too. Alice always showed her love of God by word and by how she lived her life.  Alice was a truly wonderful lady who lived a wonderful life. Alice, a mother, grandmother, great grandmother, friend, and mentor will be missed.
Alice is survived by her four children, Pam (George) Lewis, Karl (Karyl) Eischeid, Steven (Karey) Eischeid, Jason, (Yvonne) Eischeid, 12 grandchildren, 12 great grandchildren, her sister-in-laws Mary Ann, Neppl and Joann Brosinhan, brothers-in-law, Tom and Raymond Eischeid as well as multiple nieces and nephews. Preceding her in death were her parents, her husband John, brother Lawrence, grandson Jordan.
She will see God face to face and God[s name will be written on her forehead. It will never be night again and she will not need lamplight or sunlight because the Lord God will be shining on her -Rev.22:4-
5