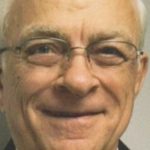 Fred Gosch, 86, of Carroll died October 8, 2020 at St Anthony Regional Hospital in Carroll.
Mass of the Christian Burial will be celebrated at 10:30 a.m., Tuesday, October 13, 2020 at St. John Paul II Parish – Holy Spirit Church in Carroll. The Celebrant will be Fr. Patrick Behm. Music will be Marcy Anderson. Lector for the Funeral Mass will be John Steffes. Casket Bearers will be Fred's family. Burial will be in Mt. Olivet Cemetery in Carroll with Military Honors conducted by the Carroll American Legion.
Visitation will be held from 5-7 p.m. on Monday at the Sharp Funeral Home in Carroll. There will be no public visitation on Tuesday at the church. For those in attendance, face coverings are required at the funeral home and at the church.  Memorials may be directed to Fred Gosch Family, c/o Sharp Funeral Home, 226 W. 8th St. Carroll, IA 51401.
Funeral arrangements are under the guidance of the Sharp Funeral Home in Carroll and online condolences may be left for Fred's family at www.sharpfuneral.com.
Fred's friendship and caring nature will be greatly missed by family, friends, neighbors, former students, and business acquaintances.  Fred was born November 25, 1933 at Sac City, Iowa, the son of Alfred and Alyce (Henrich) Gosch. Fred attended rural schools in Sac County, Graduated from Sac City High School with the class of 1951 and later attending Iowa State University. Fred served in United States Army for 2 years during Korean war and was honorably discharged in 1956.  On July 12, 1955 he married Norma Steffes at Holy Angels Church in Roselle. They spent the next year and half in Alaska during service. Upon discharge, they moved to Ames while Fred finished college at Iowa State. Graduating with a B.S. Degree in Ag Education in 1958.
Fred taught Vo-Ag at Newell, IA, Worked in Ag Sales & Mgmt. for Felco-Land'O'Lakes, Farm Mgt. and Ag. Real Estate. In 1975 Fred & Norma moved to Webster City, where they farmed for 25 years before retiring to Carroll in 2000.  Fred served as President of the Iowa Fertilizer- Chemical Dealers, Chairman of the Iowa Department of Environmental Quality Commission, was a Master Pork Producer, was active on the parish council and served as Finance Chairman at St. Thomas Aquinas in Webster City.  Fred was a member of Holy Spirit Catholic church and Men's club, and volunteer at the Carroll Veterans Administration and St. Anthony Hospital. He was honored to take part in the Washington, DC Honor Flight in May 2015.
Fred is survived by his wife Norma Gosch of Carroll; his children: Karen (Mike) Nelson, Muscatine; Nancy (Steve) Flynn, Spring, TX.; Randy (Gayle) Gosch, Grimes Jerry (Julie) Gosch, Missouri City, TX; Brian (Joni) Gosch, New Brighton, MN., plus 9 living grandchildren, and 4 great-grand children. His brothers and sisters: Joyce Gosch, Co, Eleanor Olerich of Wall Lake, Betty and Vern Riesselman of Halbur, Rich and Sandi Gosch of FL, Mary and Carl Snyder of Breda, John and Sheila Gosch of AZ, Ruth and Mike Leiker of Omaha, Mary Gosch of Omaha, Joan and Jose Hernandez of Omaha, Jan and Daryl Mandel of Omaha, Pat Gosch of Carroll, Mark and Deb Gosch of Auburn and Terry Hogan of TX. In-laws: Marcella Steffes FSPA, La Crosse, WI, Roman & Arlene Steffes Carroll, Luverne Steffes, Roselle, Lorraine Vogl Atlantic, Robert & Rache Steffes KS, Arlene & Melvin Meier, Manning, Marian Pickhinke Ft Dodge, and Carol & Don Mader of Arlington, MN, brother in law Frank Mader of West Bend.
He was preceded in death by his parents Alfred and Alyce Gosch, parents-in-law, John and Anna Steffes and 2 infant grand children, Elizabeth and Nicholas Gosch, brothers: Francis Gosch of CO, Robert Gosch of Omaha, sisters-in-law: Doris Mader of West Bend, Barbara Steffes of Halbur, brothers in-law; Joe Vogl, Atlantic, Francis Olerich of Wall Lake.