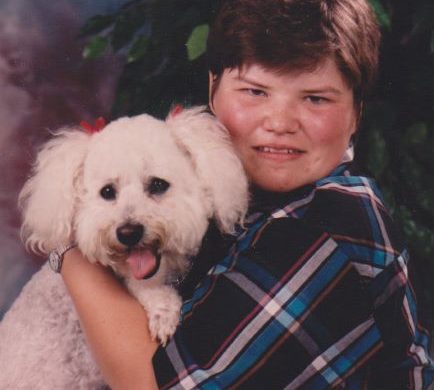 Diane Schirck, age 52, of Carroll, died Monday, June 29, 2020 at St. Anthony Regional Hospital in Carroll.
A Funeral Service will be held at the Sharp Funeral Home in Carroll at 10:30 a.m. Thursday, July 2, 2020.  Fr. Kevin Richter of St. John Paul II Parish will officiate.  Casket Bearers will be Ronnie Barker, Aaron Arp, Keith Schirck, Jeff Hugeback, Ted Eischeid, and Mike Hugeback.  Burial will be at Mt. Olivet Cemetery in Carroll.
Visitation will be held from 6-8 p.m. on Wednesday at the Sharp Funeral Home in Carroll.  Visitation will resume from 9:30a.m. until 10:15 a.m. Thursday morning.
Those in attendance are asked to abide by COVID 19 social distancing guidelines and masks are recommended.
In lieu of flowers memorials may be directed to the Diane Schirck Memorial Fund C/O Sharp Funeral Home 226 W. 8th Street, Carroll, Iowa 51401.
Funeral arrangements are under the guidance of the Sharp Funeral Home in Carroll and online condolences may be left for Diane's family at www.sharpfuneral.com.
Diane, the daughter of Earl L. and Laura M. (Hugeback) Schirck was born on December 8, 1967 at Carroll, Iowa.  She grew up in Carroll and graduated from Carroll High School.
Diane worked in the kitchen at Fairview Elementary, Carroll Middle School, and Carroll High School.  She also assisted in the kitchen at SunnyBrook Assisted Living, and New Opportunities in Lake City.  During these times she was also employed at Dollar General and Kmart.
Diane enjoyed spending time with here nieces and nephews, and her dogs.  She loved cooking, spending time at the cabin in Lake View, fishing, and playing games.
Diane is survived by her siblings: Carol Schirck of Carroll, Janet (Rick) Gute of Glidden, and Duane Schirck of Carroll; as well as her nieces, nephews, great nieces, and great nephews.
Diane was preceded in death by her parents: Earl and Laura Schirck; her brothers: David and Dale Schirck; her sister, Lois Schirck; her grandparents: Louis and Marie Hugeback, and Leonard and Martha Schirck.