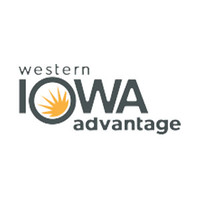 Calhoun County has become the newest member of the Western Iowa Advantage (WIAD) cooperative marketing region. Jill Heisterkamp, executive director of the Calhoun County Economic Development Corporation (CCEDC), explains what WIAD does and why her board of directors was interested in joining.
Prior to joining WIAD, Calhoun County had been involved with the Mid Iowa Growth Partnership, which includes Palo Alto, Kossuth, Wright, Humboldt, Pocahontas, Hardin, Hamilton and Webster Counties, since 2005. Heisterkamp says their experience has been good with that organization, however, they felt they had more in common with the counties in WIAD.
Western Iowa Advantage serves eight other western Iowa counties: Adair, Audubon, Carroll, Crawford, Greene, Guthrie, Ida and Sac. Heisterkamp believes Calhoun County businesses and residents will see significant benefits from CCEDC's switch to a different organization.
They officially joined in August and are already actively participating. CCEDC is slated to host one of the group's organizational meetings later this year and intends to send representatives to the WIAD Housing Summit in Carroll on Nov. 13. For more information on WIAD, follow the link included with this story on our website.
_____