The holidays are a time of joy, warmth and generosity; a time when we come together to embrace the spirit of giving. Amidst the joy, let's remember those who struggle to put food on their tables and who are reminded this time of year of the hardships they face!  But together we can make that struggle go away for a short time, join Carroll Broadcasting Company in helping provide the basic needs to families, children and individuals in our communities by making a donation during our Great Holiday Food Drive. Find us at Fareway and Hy-Vee on Friday, November 17, 2023, from 9am until 6pm, where we will be collecting donations for our local food pantries and organizations. Your contributions, no matter how big or small, have the power to transform someone's holiday season and beyond, so please donate if you can.
TOGETHER WITH:
Haley Equipment
A Fun Top & Jeans
Jalisco Mexican Restaurant
Collins Aerospace
Brincks Exteriors
Jeanine's Hallmark
Greenleaf Tobacco & Vape
Mid-Iowa Insurance & Real Estate
Bread Feed & Grain
Vita Suite
New Opportunities
If you can't make the food drive, you can also send donations to Venmo, @CB-Wish or use this QR Code: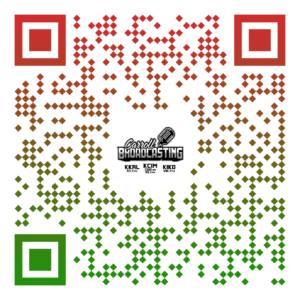 Cash donations accepted day of, also anytime via Venmo @cb-wish
A HUGE THANK YOU TO OUR ANNONYMOUS DONORS WHO DROPPED OFF A $1,250 DONATION TO THE FOOD DRIVE on Monday, November 13th. What a way to start off our Great Holiday Food Drive!