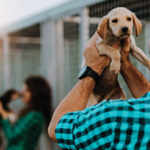 Carpet One Floor and Home in Carroll is hosting a pet adoption event in partnership with Animal Rescue of Carroll. The event begins at Carpet One at 11:00 a.m. on Saturday, June 18. Marketing Manager Mike Melone says they have something cool planned for individuals who adopt a pet.
The event runs till 1:00 p.m. on Saturday, and Melone adds participants will be able to come out and play with the animals.
The event is free to attend, and Melone encourages everyone to come.
Again, the event is on Saturday from 11:00 a.m. to 1:00 p.m. at Carpet One, located at 811 Plaza Drive in Carroll.