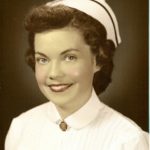 Mary Ann St. Peter, age 93, of Scranton, IA, passed away on Wednesday, June 15, 2022 at St. Anthony Regional Hospital in Carroll.
    Funeral service will be held at 10:30 A.M. on Saturday, June 18, 2022 at the Carroll First Assembly of God Church with Rev. Angelo Luis and Rev. Timothy Walker officiating.  Music for the service will be by Sarah Clark, Lyndie Walker-Spitzer, Rebecca Colwell, and Lisa Walker.  Casket bearers will be Garrett Moreland, Ian Murphy, Alex Colwell, Matthew Clark, John Spitzer, and Dan Scheuermann.  Honorary casket bearers will be Jeff St. Peter, Jason Roberts, and Kevin Blackburn.  Burial will be in the Scranton Township Cemetery.
    Visitation will be held at the Dahn and Woodhouse Funeral Home in Scranton from 5 – 7 P.M. on Friday evening.  The casket will be moved to the Carroll First Assembly of God Church at 9:30 A.M. on Saturday where visitation will continue until 10:15 A.M.
     Funeral arrangements are under the direction of the Dahn and Woodhouse Funeral Home in Carroll.  Online condolences may be left for the family at www.dahnandwoodhouse.com
    Mary Ann was born on June 9, 1929 on her family's farm near Creston, IA, and she was the daughter of Edward and Eva (Jensen) Fredrick.  At age 5, she started country school near Orient right after the passing of her mother.  The family moved to Greenfield in 1936.  Mary Ann was married to Richard Bittner in 1945.  To this union two children were born: Rick and Roxanna.  Her husband Richard passed away in 1947 in a construction accident.  In 1948, Mary Ann moved to Bayard as a widow and finished high school.  She then attended St. Anthony School of Nursing in Carroll.  There she met Royce St. Peter through her roommate Charlotte St. Peter.  They were married October 19, 1950 at the Scranton United Methodist Church.  They lived in Boone until moving to Scranton in 1954.  To this union four children were born: Gail, Denise, Keith, and Lisa, and Royce adopted Rick and Roxanna.  Mary Ann then went back to nurses training and became an R.N. in 1959.  She worked as a nurse at the Jefferson Hospital, Jefferson Manor, Bayard Care Center, Thomas Rest Haven, Scranton School and retired in 2003, one month short of 75 years old, to care for her husband at home.  Mary Ann continued to live on the farm following Royce's death until one week before her passing.  She was a member of the Church of Christ in Scranton.  Mary Ann always remembered her family with birthday cards, she enjoyed watching sports, fishing, and she loved her farm cats.
     Mary Ann is survived by her children and their families: Rick St. Peter (Sheila) of Scranton, Roxanna Lindsey of San Antonio, TX, Gail St. Peter (Yatzi) of Scranton; Denise Bull (Doug) of Ames, Keith St. Peter (Ethyl) of Ames, and Lisa Walker (Tim) of Pine River, MN; eleven grandchildren: Jeff St. Peter (Deb), Kim Carrillo, Kathy Scheuermann (Dan), Amy Roberts (Jason), Denise Murphy (Ian), Annette Russell, Evie Blackburn (Kevin),Garrett Moreland (Elizabeth), Sarah Clark (Matthew), Lindie Spitzer (John), and Rebecca Colwell (Alex); 34 great-grandchildren; 13 great-great grandchildren; a sister-in-law Joy St. Peter of Audubon; and several nieces and nephews.
     Mary Ann was preceded in death by her parents Edward and Eva Fredrick; her step-mother Marie Fredrick; two sisters: Betty Scott (Bernard) and Raideen Martin (Leon); two brothers: Robert Fredrick and Richard Fritz; her first husband Richard Bittner, and her husband Royce St. Peter.