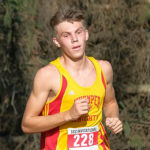 Cross Country Results Saturday, September 11th 
East Sac, Kuemper and South Central Calhoun At Tim Thomas Classic At Holstein 
Michael Pottebaum had another strong showing finishing 7th overall with a 17:30.99 to lead all the local runners. The Knights had four runners finish in the top 50 and were 7th as a team with 215 points. Ryan North continues to recover from an early season injury and ran in his second meet finishing 39th. Patrick Hensel took 49th and Carter Drake were 50th for the Knights. South Central Calhoun was 12th as a team with 349 points. Tristan Blair was their top finisher in 60th place.
Class A Boys Results
Team Standings
Sioux City Noth 23
MOC Floyd Valley 58
Sioux Center 116
Okoboji 131
Sergeant Bluff Luton 137
Sioux City East 141
Kuemper 215
Bishop Heelan 233
Pocahontas Area 250
Cherokee 265
Woodbury Central/Kingsley Pierson 316
South Central Calhoun 349
Emmetsburg 361
West Lyon 375
Sioux City West 396
Kuemper Results 
7th Michael Pottebaum          17:30.99
39th Ryan North                      19:09.78
49th Patrick Hensel                 19:50.77
50th Carter Drake                    19:53.62
71st Colton Hagen                    21:27.03
75th Caeden Canuso                21:46.94
South Central Calhoun Results 
60th Tristan Blair                   20:32.27
65th Nathan Burley                21:00.06
66th Eli Wheelock                  21:05.12
78th Case Korleski                 21:57.63
82nd Tyler Lightner               22:28.72
83rd Carter Scott                     22:35.12
Boys Class B Results 
Parker Engel had a solid day for East Sac taking 19th place with Isaiah Aragon also finished 50th overall. The Raiders would take 11th as a team with 260 points.
Team Standings
Ogden 49
Woodbine 93
St Edmond 102
West Monona 143
Manson NW Webster 160
Gehlen Catholic 193
Riverside 194
Bishop GArrigan 211
Sioux Central 213
MVAO-COU 226
East Sac 260
Ridge View 276
LoMa 295
Alta-Aurelia 318
South O'Brien 401
East Sac Results 
19th Parker Engel        19:19.66
50th Isaiah Aragon      21:14.24
53rd Wyatt Thorpe      21:21.94
55th Elias Aragon        21:30.00
89th Tony Clair            25:23.65
91st Ethan Peters         25:29.16
Audubon, Coon Rapids Bayard and IKM-Manning At Greene County 
IKM-Manning nearly came away with a team championship as the top three teams were separated by just 4 points. The Wolves would finish 3rd with 61 points, behind Denison Schleswig with 57 points and Greene County with 59 points. The Wolves had their top five runners all in the top 25 and placed two runners in the top 10. Audubon and Coon Rapids Bayard also competed. The Wheelers ran four guys and Coon Rapids Bayard had one runner so neither team had the minimum of five guys to score team points.
Lane Smith of IKM-Manning was the top local runner in 6th place at 19:05, his teammate Josiah Conner was 7th in 19:14. The Wolves depth showed with Caiden Keller in 12th in 19:54, Abe Polzein 19th in 20:30 and Jayden Phipps 22nd in 20:57. Jackson Deist was solid again for the Wheelers and gave them a top 10 finish, in 10th place in 19:32. Cory Heithoff was the lone Coon Rapids Bayard runner and he was 39th place.
Team Standings
Denison Schleswig 57
Greene County 59
IKM-Manning 61
SE Valley 69
Perry 93
Audubon No Team Score
Coon Rapids Bayard No Team Score
IKM-Manning
6th Lane Smith        19:05
7th Josiah Conner   19:14
12th Caiden Keller   19:54
19th Abe Polzein       20:30
22nd Jayden Phipps   20:57
24th Rasche Huehn     21:04
Audubon Results
10th Jackson Deist    19:32
38th Eli Deist              23:23
46th Mason Steckler   24:34
55th Derek Bald            28:22
Coon Rapids Bayard Results 
39th Cory Heithoff      23:24