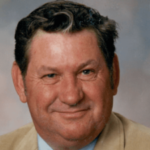 Sidney Nelson, age 89 of Wall Lake, IA, formerly of Lake View, IA, passed away on Tuesday, August 31, 2021, at Twilight Acres Nursing Home in Wall Lake.
Sidney Hershal Nelson was born on August 28, 1932, to parents Sidney O. and Sophia (Theodorf) Nelson on a farm near Odebolt, IA.  He attended #7 Country School and then graduated from Odebolt High School with the class of 1950. After high school, Sid worked in Lake View for the Department of Natural Resources for two years before entering the United States Air Force in January of 1952.
Sid took basic training at Lackland Air Force Base in San Antonio, TX.  His first assignment was in October of 1952 with the 33rd Bomb Squadron working on B-47's at March Air Force Base in California.  He then transferred to Offutt Air Force Base near Omaha, NE, where he worked with the 34th Refueling Squadron on KC135's taking several Temporary Duty Assignments to Alaska, Spain, Greenland, and the Azores.  In 1964, Sid was ordered to Anderson Air Force Base in Guam during the Vietnam War with the 3902nd Squadron.  He was working on B-52's by then and had been promoted to Master Sergeant.  In 1968, he was sent to Dow Air Force Base in Maine to close out the Base.  In 1969, he was sent to Barksdale Air Force Base in Bossier, LA, for his last assignment.  Master Sergeant Sidney H. Nelson retired from the United States Air Force after serving his country for twenty years in 1972.
On June 29, 1952, Sid married the love of his life, Doris Tollie Freese.  This union was blessed with four children: Renee, Royce, Rendee, and Rajean. The three oldest children were born in California while Sid was stationed there, and Rajean was born closer to "home" in Omaha, NE, before they all moved to Guam.
Sid, also known as Junior, was an avid fisherman.  When he retired from the military, he ran Nelson's Bait Shop in Lake View where he also sold furs. He made several fishing trips to Minnesota and Okoboji to the condo, and knew where all of the good fishing spots were along his route.  When traveling, Jr. would keep track of his special spots on his atlas and maps so he'd never forget!  He also rarely went fishing alone.  Sid always had a pack of grandchildren with him, teaching and telling them all the "whopper" fish tales.   When he wasn't fishing, Jr. enjoyed watching his favorite baseball team, the St. Louis Cardinals, going gambling, and reading his atlas and maps.  Sid was the best grandpa and cherished his time spent with his grandchildren and family.
Sid was very proud to be a contributor to medical research for Parkinson's Disease from which he suffered. Through the Mayo Clinic and in conjunction with the U.S. Government, he participated in a study they were conducting on soldiers and veterans on how their exposure of Agent Orange contributed to their disease. Dad was the first person at Mayo to receive 4 leads in the brain during Deep Brain Stimulation Surgery. It truly extended his life and for that we are grateful.
Sid was an amazing man who will be missed dearly by all those that knew and loved him.
Those left to cherish his memory include his wife Doris (Dot) Nelson of Wall Lake, IA; children: Renee (Bob) Renze of Lake View, IA, Royce (Mellanie) Nelson of Sac City, IA, Rendee Wallace of Odebolt, IA, Rajean Koessel of Phoenix, AZ; grandchildren: Rob Renze (Heidi Henschen) of Lake View, IA, Ryan (Jacque) Renze of Lake View, IA, Ross (Sara) Renze of Auburn, IA, Jesse (Katie) Nelson of Madison, WI, Jennie Nelson of Madison, WI, Justine (Mitch) Decker of Cherokee, IA, Jacob Nelson of Altoona, IA, Kristina (Larry) Boysen of Ida Grove, IA, Angela Wallace (Taylor Ironshell) of Odebolt, IA, Karissa Koessel and Kristopher Koessel of Phoenix, AZ; great-grandchildren: Quinn, Olivia, Tyler, Jax, Ryker, Reagan, Jadyn, Jorrden, Jaxston, Emmet, Sylvie, Mason, Maddox, Temperance, Ella, and Eli; sister Carol Skarin of Sac City, IA; several extended family members, and numerous friends.
Sid was preceded in death by his parents; grandson Jeffrey Renze; sons-in-law Bill Wallace Jr. and Dave Koessel; brothers Emory and Dean Nelson; sisters Bonnie (Ralph) Boerner, Gloria (Leonard) Goyer, and Joyce (Jim) Matre; and brother-in-law Robert Skarin.
Funeral Services will be held at 10:30 a.m. on Wednesday, September 8, 2021, at the First Congregational United Church of Christ with Pastor Bruce Hauswirth officiating. Burial will be in the Ferguson Cemetery in Lake View under the direction of Farber & Otteman Funeral Home of Lake View, IA. Visitation will be held from 5:00-7:00 p.m. on Tuesday, September 7, 2021, at the church.