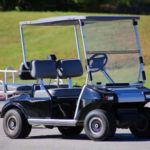 Boys Golf Results for Tuesday, May 4th, 2021
Kuemper at Atlantic Tournament at Nishna Hills
The Kuemper boys golf team finished in third place at the Atlantic tournament Tuesday. The Knights as a team scored 329. Atlantic won the tournament with a team score of 318, followed by ADM in second place with a score of 321. With colder temperatures and a strong wind, the Knights ended their day with golfers in the top 10. 
Maverick Schwabe and Jack Tiefenthaler ended their days with a team low score of 80. Schwabe finished in seventh place as Tiefenthaler finished in ninth place overall. Mitchell Badding wrapped up his day on the course close behind Schwabe and Tiefenthaler with a score of 83. Carter Putney closed out the scoring for the Knights, ending his day with a score of 86. 
Team Standing
Atlantic                       318

ADM

                         

321

Kuemper               329

Winterset

                 

331

Creston

                     

341

Clarinda

                     

353

Ballard

                       

354

Lewis Central

           

354

Glenwood

                 

360

 Harlan

                       

372

Denison-Schleswig

   

374

 Red Oak

                   

400

 Shenandoah

             

405
Kuemper Scores
Maverick Schwabe
80
Jack Tiefenthaler   
80
Mitchell Badding
83
Carter Putney
86
Tyler Auen
87
Benicio Lujano
91
Coon Rapids Bayard and Glidden Ralston at Boyer Valley
The Coon Rapids Bayard and Glidden Ralston boys golf teams traveled to Dunlap Tuesday to take part in a Rolling Valley Conference golf meet. Along with those two teams, Boyer Valley, CAM, Woodbine, and Exira-EHK competed at the meet as well. Coon Rapids Bayard finished in second place at the meet with a score of 184. Glidden Ralston finished in sixth place with a team score of 218. Boyer Valley ultimately won the meet with a team score of 176. 
For Coon Rapids Bayard Preston McAllister and Josue Ramirez both scored a team best 44. Jeffery Kracht was three strokes ahead of McAllister and Ramirez, ending his day with a 47. Jacob Estrada and Trey Rosenbeck finished the course with a 49, rounding out the scoring for the Crusaders. 
For Glidden Ralston, Caden Wenck shot a team best 52 on the day. Kyle Olberding and Caden Smith finished one stroke ahead of Wenck with a score of 53. John Whitver rounded out the scoring for the Wildcats ending his day with a score of 60. 
Cory Bantum of Woodbine won medalist honors with a score of 42 while Trey Petersen of Exira-EHK also scored a 42 and got runner up medalist honors. 
Team Standings
Boyer Valley

             

176

CRB                          184

CAM

                         

188

Woodbine

                 

189

Exira-EHK

               

191

Glidden Ralston 218
Coon Rapids Bayard Scores
Preston McAllister
44
Josue Ramirez
44
Jeffery Kracht
47
Jacob Estrada
49
Trey Rosenbeck
49
Kolby Culbertson
55
Glidden-Ralston Scores
Caden Wenck
52
Kyle Olberding
53
Caden Smith
53
John Whitver
60
Tyler Brandt
62
Cale Klocke
69
Riverside at Audubon 
The Audubon boys golf team was in action Tuesday against Riverside where they were edged out slightly in the team standings. Audubon finished the day with a score of 245 while Riverside won the meet with a score of 243. Despite falling just short of the team win, the Wheelers had some good individual scores.
Joey Schramm finished his day with the meet's lowest score of 43, earning himself medalist honors. Carter Andreasen and Jay Remsburg finished the course with the same score of 48. Edward Miller rounded out the scoring for the Wheelers, ending his day with a 53. Teddy DuVall also ended his day by scoring a 53. 
Team Standings
Riverside

     

243

Audubon  245
Audubon Scores
Joey Schramm
43
Medalist
Carter Andreasen
48
Jay Remsburg
48
Edward Miller
53
Teddy DuVall
53
Aiden Alt
65