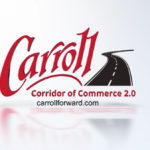 As the City of Carroll, the Carroll Chamber of Commerce and the Carroll Area Development Corporation (CADC) continue work on the Corridor of Commerce project, they are also reaching out to bring residents of the community into the process. In a newly released video, city and business leaders discuss the reasoning behind the project and the timing. President of Commercial Savings Bank, Ryan Milligan, says the pandemic is new, but other economic aspects needing everyone's attention are not.
The video was produced in partnership with RDG Planning and Design, who is working with the city on the Corridor of Commerce plan, and Fusebox Marketing of Carroll. City Manager, Mike Pogge-Weaver, says the video has been distributed on their various social media outlets and on the website carrollforward.com. The site was opened late last year, asking residents to fill out a survey on their vision for the future of their community. Pogge-Weaver says they would like to see a lot more of those surveys completed.
He adds they are really looking for ideas in the survey revolving around quality of life in Carroll, and says one example became evident during recent research.
Getting those types of first-hand accounts of what is important or what is missing is critical right now, he stresses. The website also incorporates a user-friendly tool, called social pinpointing, which Pogge-Weaver says gives residents opportunities to dial into issues or ideas in a specific area.
Comments and feedback will be taken throughout the project, but planning based on what has been received to date will begin soon. Pogge-Weaver asks residents to take a few minutes and provide input in the next couple of weeks. A link to the website and the video can be found below.
To website: https://rdgusa.mysocialpinpoint.com/carrollhwy30
To video: https://www.facebook.com/CityOfCarroll/videos/235004054829461