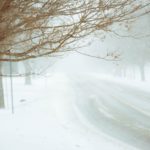 DES MOINES, Iowa (RI) — Forecasters say a large winter storm system is moving toward Iowa that will likely impact travel for many of us before the weekend arrives. Up to nine inches of snow is forecast for parts of west and central Iowa along with winds gusting up to 50 miles an hour. Meteorologist Cory Martin, at the National Weather Service, says it'll get wicked late tonight (Thursday) and early tomorrow (Friday).
A Blizzard Warning is posted for much of the state's western half from 6 o'clock tonight through 6 tomorrow night. Snowfall could be heavy.
With some of the advisories and warnings taking effect at 6 P-M, the weather could start getting nasty about the time many tens of thousands of Iowans will be trying to get home for the day.
Seven counties in central and north-central Iowa are under a Winter Storm Warning while wide sections of Iowa's eastern half have Winter Weather Advisories posted, though he says Waterloo, Cedar Rapids and Davenport won't see as many falling flakes.
Keep up with the changing forecast on your local Carroll Broadcasting station, website and mobile app and at weather-dot-gov.