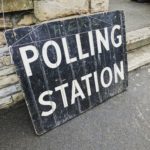 Iowa Secretary of Agriculture, Mike Naig, and Secretary of State, Paul Pate, are joining forces, urging area FFA members and young alumni to take an active role in the Nov. 3 election at local polling locations. "Now more than ever, it's critical for our young leaders to play active roles in the election process. I'm challenging Iowa FFA members and young alumni to assist in some way at their local polling places on Election Day," says Naig. "Not only is this a great way to protect our most vulnerable Iowans, but it's also an opportunity to serve your communities while witnessing democracy in action." This is an important job, Pate says. "They'll be helping ensure Election Day runs smoothly across Iowa. I hope many FFA members will step up." The COVID-19 pandemic has created recruiting challenges for local precincts as most officials are over 60 years old and at increased risk for complications. Younger volunteers are being recruited as a means to help protect these high-risk individuals. Election officials help voters check-in, answer questions and guide them through the voting process. They also guard the integrity of the election itself. More details on the guidelines for participation, training information and signing up can be found below. Also included is a list of polling locations in Carroll County.
___________________________
For more information or to sigh up to work: www.pollworker.iowa.gov
After signing up online, a representative of the county auditor's office will follow up with more information
Carroll County Polling Locations:
GENERAL ELECTION, NOVEMBER 3, 2020
PRECINCTS AND POLLING PLACES
CARROLL COUNTY, IOWA
Polls open from 7:00 a.m. to 9:00 p.m.
PRECINCT                                                      POLLING PLACE
Arcadia Precinct                                              Arcadia City Hall, Arcadia
Carroll Ward One                                             St. John Lutheran Church, 801 E. 18th, Carroll
Carroll Ward Two & N1/2                             First United Methodist Church, 1621 N. Main,
Maple River Township                                   Carroll
Carroll Ward Three & S1/2                          St. John Lutheran Church, 801 E. 18th, Carroll
Maple River Township
Carroll Ward Four                                        First United Methodist Church, 1621 N. Main,
Carroll
Eden Precinct                                                 Templeton Center, Templeton
Ewoldt Precinct                                             Sacred Heart Church Hall, 203 Sue St. Manning
Glidden-Richland Precinct                         Glidden Community Meeting Room, Glidden
Pleasant Valley-Newton Precinct            Dedham City Hall, Dedham
Sheridan-Grant-Jasper Precinct              Lidderdale Community Building, Lidderdale
Union Precinct                                               Coon Rapids Municipal Building, Coon Rapids
Washington-Roselle Precinct                      Halbur Community Building, Halbur
Wheatland-Kniest Precinct                         St. Bernard's Parish Hall, Breda