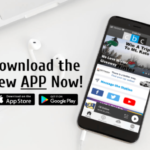 Download our new app "Carroll Broadcasting" available for both iOS and android. Simply find your app store and download for FREE. Make sure to "Allow" notifications for closings/delays/other alerts. Also "Subscribe" to upload photos/videos for contest and events.
Other reason why you will want the new app:
-New built in streaming player allows you to listen to one of our multiple streams by clicking the menu icon on the player all in one spot! Plus the stream continues to play in the background while you search your other favorite apps!
-Quick access to all of our latest news, sports, audio/podcast, obituaries, plus quick access to our social media sites!
This app will also allow you to wake up with us in the mornings 🙂
DOWNLOAD TODAY!