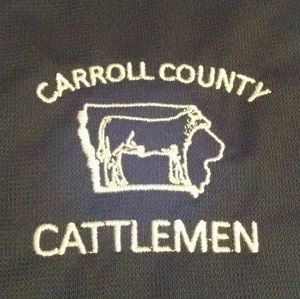 Tickets are still available for the Carroll County Cattlemen's Annual Banquet on Saturday, Feb. 24 at the Arcadia Legion Hall. This year's event will feature a dinner catered by the Litterdale Country Store for only $20 a person. Cattlemen's member, Cody Erickson, says they get to take a night off from grilling to celebrate the accomplishments of members over the course of the previous year, to raise funds for this year and to give a helping hand to the next generation of cattlemen as they present the scholarship checks to last year's winners.
The scholarship program was initiated just four years ago, and Erickson says they are working to help it grow over the next few years.
They have also seen a record number of sponsorships at 102, and Erickson says they are proud to have such staunch support from the county. They will be honoring one of these at the banquet with their Holy Cow Award.
The banquet will also feature the extremely popular auction that Erickson says features some exciting items this year. There are about 50 prizes available for purchase, including seven binders with their popular mystery prizes. Comedy magic from Joe Cole will round out the evening. Tickets are available at Availa Bank, the Carroll Vet Clinic and can be purchased at the door that night.