Teacher Appreciation Fund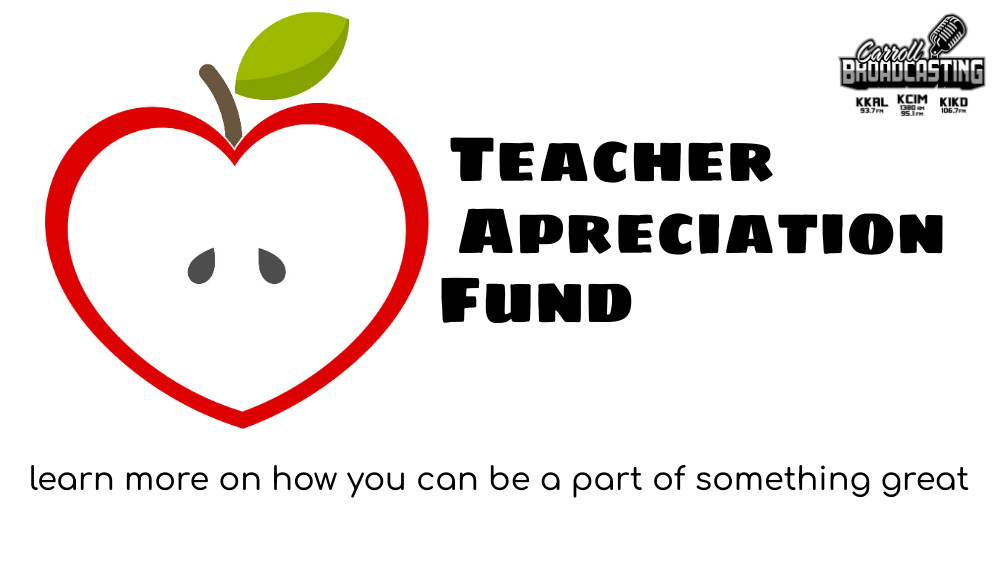 The teachers and their staff at our local schools work extraordinarily hard every single day to provide our children with an amazing place to learn and thrive, creating a home away from home. To show our deep gratitude, Carroll Broadcasting Company has established a Teacher Appreciation Fund. Contributions to this fund will pay for gifts of appreciation to teachers and school staffs.  Things like donuts for teacher in-service days as an example. Additionally, it will allow us to show recognition of their efforts in other ways throughout the year. Even a $5 donation can go a long way in appreciation for our teachers and their staff. We encourage everyone to give at whatever level they feel comfortable.
We are using PayPal for online giving, it is secure and safe, but they do take fees.  Please consider covering the processing fees per your transaction. By choosing to cover the fees please add 2.2%+0.30 cents of your donation (ex. $10.00 donation with fees would be $10.52) all of it goes to the Teacher Appreciation Fund which is greatly appreciated.
If you prefer to send in a check instead, you may do so. Please write it out to Carroll Broadcasting Company, indicate that is for the Teacher Appreciation Fund. Send it to Carroll Broadcasting Company, PO Box 886, Carroll, IA 51401 . You can not place an online order for checks only PayPal account, debit card, or credit card. The online donation button is below.