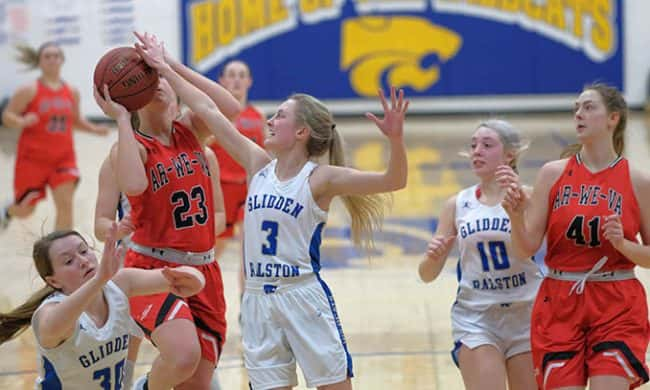 Photos: Sponsored by Roselle Mutual Insurance
Ar-We-Va At Glidden Ralston
Glidden Ralston 65
Ar-We-Va 32
Glidden Ralston got out quickly holding the Rockets to 6 points in the 1st half. The Wildcats were executing well on offense and finished with three girls in double figures and Kim Daily with 9 points.  The 2nd half got a little sloppy and the Wildcats hit plenty of free throws shooting 40 on the night. Hannah Whitver led the way with 19 points, 12 rebounds, 6 assists and 4 steals. Gretchen Wallace had 17 points and 11 rebounds and 4 blocks while Paige Klocke finished with 11 point. Jadeyn Smith led the Rockets with 13 points and Maggie Ragaller finished with 6 points. The win moves the Wildcats into the 2nd round where they will play at Paton Churdan on Tuesday, February 18th on 1380 AM/95.1 FM KCIM. The Wildcats are 10-12 on the season while Ar-We-Va wraps up the season at 5-16.
Glidden Ralston Stats
Hannah Whitver 19 Points, 12 Rebounds, 6 Assists, 4 Steals
Gretchen Wallace 17 Points, 11 Rebounds, 3 Assists, 3 Steals, 4 Blocks
Paige Klocke 11 Points, 3 Rebounds, Assist
Kim Daily 9 Points, 5 Rebounds, 3 Assists
Tori Grossman 4 Points, 6 Rebounds
Jenna Klocke 3 Points, 2 Steals
Alexia Nelson 2 Points
Macy Snyder 1 Rebound
Ar-We-Va Stats
Jamie Hausman 2 Points
Timberlen Koch 2 Points
Hannah Kraus 3 Points
Jadeyn Smith 13 Points
Maggie Ragaller 6 Points
Sara Schurke 4 Points
Bridget Cameron 2 Points
Quarter Scores           1st        2nd        3rd        Final
Ar-We-Va                    4          6          14        32
Glidden Ralston           15        31        46        65
Class 1A Region 8
Coon Rapids Bayard At Paton Churdan
Paton Churdan 67
Coon Rapids Bayard 56
Paton Churdan came out and shot it well with Tessa Steiml and Carmyn Paup knocking down several 3's to help them build a 40-25 lead at half. The Crusaders hung tough with 4 girls in double figures and created several turnovers and trailed only 17-14 after the 1st quarter. Coon Rapids Bayard switched things up defensively in the 2nd half to try and adjust to the outside shooting and that opened things up for Danielle Hoyle inside. Hoyle led 3 players in double figures with 22 points. Paup and Steiml each finished with 18 as the Rockets maintained a double digit lead in the 2nd half. Alaya Betts led CRB with 20 points and 12 rebounds, Brynn Bass added 12 points, Mia Leighty had 12 points and Alexa Culbertson finished with 10 points and 11 rebounds with 10 of those coming on the offensive end. Paton Churdan improves to 14-8 on the season and will host Glidden Ralston on Tuesday, February 18th. The game will be broadcast on 1380 AM/95.1 FM KCIM. Coon Rapids Bayard ends the season at 4-18.
Paton Churdan Stats
Karissa Stephenson 3 Points
Chloe Berns 6 Points
Carmyn Paup 18 Points
Tessa Steiml 18 Points
Danielle Hoyle 22 Points
Coon Rapids Bayard Stats
Alaya Betts 20 Points, 12 Rebounds, 2 Steals
Brynn Bass 12 Points, 2 Rebound, 2 Steals
Mia Leighty 12 Points, 3 Rebounds, Steal
Alexa Culbertson 10 Points, 11 Rebounds
Cora McAlister 2 Points, 2 Steals
Lexie Davis 1 Rebound
Quarter Scores           1st        2nd        3rd        Final
CRB                             14        25        37        56
Paton Churdan            17        40        51        67
Class 1A Region 8 Scores
Westwood 97 West Harrison 37
Woodbury Central 86 Whiting 34
Woodbine 58 Boyer Valley 56
CAM Anita 74 Griswold 20
Riverside 55 Heartland Christian 52
Class 1A Region 7
Orient Macksburg At Audubon
Audubon 77
Orient Macksburg 37
It took until late in the 1st quarter before the new press Audubon installed for the game took complete affect and helped the Wheelers take a 16-11 lead into the 2nd quarter. The game had 5 lead changes early with the Wheelers able to establish the inside game but Orient Macksburg was able to knock down a few shots and led at one point 9-7. The 2nd quarter was all Audubon as the pressure started creating some easy layups and the a couple 3's from Rylie Hartl. The Wheelers outscored the Bulldogs 31-9 in the 2nd quarter and led 47-20 at half. The 2nd half turned into the Jaci Christensen show as she finished with 27 points and 10 rebounds. Aleah Hermansen added 16 points and 8 rebounds. The Wheelers hit 30-61 from the field and were 10-10 from the free throw line. Hartl finished with 13 points. The win moves the Wheelers to 15-7 on the season. They will travel to Stanton for their 2nd round regional game on Tuesday, February 18th.
Audubon Stats
Kate Tessman 3 Points
Mallory Riebhoff 4 Points, 3 Rebounds, 2 Steals
Leah Subbert 6 Points, Rebound, Assist, Steal
Katelyn Nielsen 4 Points, 2 Rebounds, 3 Assists, Steal
Aleah Hermansen 16 Points, 8 Rebounds, 2 Assists, 3 Steals
Hannah Thygesen 2 Rebounds
Rylie Hartl 13 Points, Rebound, Steal
McKenna Petersen 4 Points, Rebound, 3 Assists, 3 Steals
Jaci Christensen 27 Points, 10 Rebounds, 4 Steals, Block
Quarter Scores           1st        2nd        3rd        Final
Orient Macksburg       11        20        32        37
Audubon                      16        47        63        77
Class 1A Region 7 Scores
Sidney 53 Freemont Mills 36
Stanton 73 Diagonal 30
Central Decatur 61 Mormon Trail 11
Lenox 51 Bedford 50
St Albert 92 Essex 27
East Mills 43 Southwest Valley 29