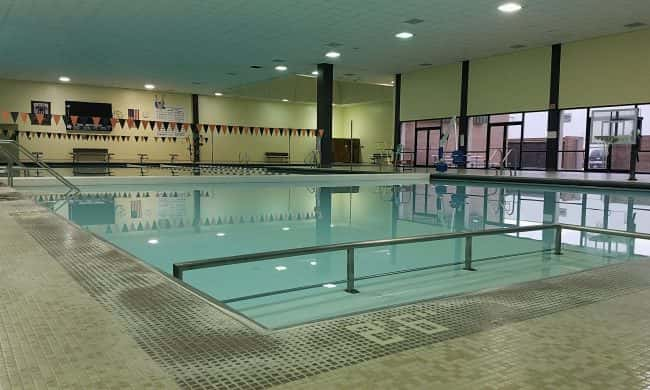 Boone At Carroll
Boone 100
Carroll 83
The Tigers suffered a tough loss though they swam well at home with several girls having time drops in different events. The competition on Monday should help keep the girls moving forward.
Carroll took 1st place in two of three relays and were 2nd in the 3rd relay while picking up five more 1st places in individual events. Bailey St Peter, Emma Myers, Jenna Currier and Melea Axman won the 200 Medley Relay and teamed up to win the 200 Free Relay. Sophia Polking, Amelia Holt, Beth Runneberg and Hailey Burns took 2nd in the 400 Free Relay.
Jenna Currier had another strong day. Along with her relay championships she took 1st in the 200 Free and 100 Free. Emma Myers also had individual championships in the 200 IM and 100 Breast. Melea Axman had the other individual championship in the 100 Fly. Axman added a 2nd place in the 50 Free and Bailey St Peter was 2nd in the 100 back.
Carroll returns to action on Saturday at Marshalltown.
Carroll Results 
200 Medley Relay 
1st Carroll                                      1:54.36
Bailey St Peter, Emma Myers, Jenna Currier, Melea Axman
3rd Carroll                                     2:34.95
Delaney McAndrew, Olivia Boes, Zelda DeMoss, Kennadie Machovec
200 Free
1st Jenna Currier                          2:04.19
4th Beth Runneberg                     2:15.93
6th Olivia Boes                              2:27.81
200 IM
1st Emma Myers                              2:19.93
3rd Amelia Holt                               2:39.34
6th Delaney McAndrew                 3:12.00
50 Free
2nd Melea Axman                            1:02.23
3rd Amelia Holt                                1:08.55
4th Sophia Polking                           1:12.95
100 Free
1st Jenna Currier                              55:14
4th Hailey Burns                              1:02.53
6th Kennadie Machovec                  1:28.02
500 Free
3rd Beth Runneberg                           6:21.09
5th Sophia Polking                               6:47.32
6th Zelda DeMoss                              6:56.75
200 Free Relay 
1st Carroll                                             1:42,17
Melea Axman, Bailey St Peter, Emma Myers, Jenna Currier
3rd Carroll                                           1:53.49
Sophia Polking, Amelia Holt, Beth Runneberg, Hailey Burns
100 Back 
2nd Bailey St Peter                           1:08.71
5th Zelda DeMoss                              1:25.02
6th Kennadie Machovec                 1:43.70
100 Breast 
1st Emma Myers                             1:10.31
5th Olivia Boes                                 1:31.55
400 Free Relay 
2nd Carroll                                      4:11.60
Sophia Polking, Amelia Holt, Beth Runneberg, Hailey Burns
4th Carroll                                        5:06.81
Olivia Boes, Zelda DeMoss, Delaney McAndrew, Kennadie Machovec