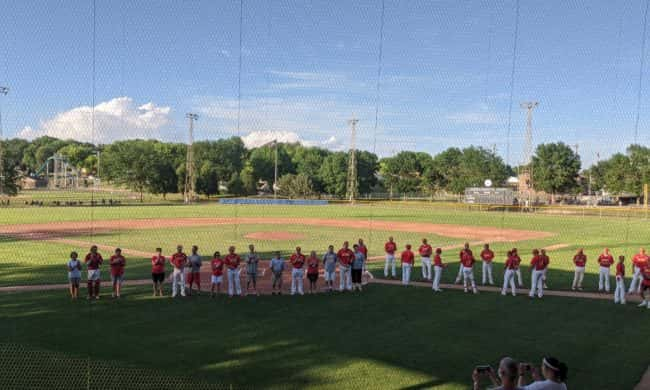 Shenandoah At Kuemper
Kuemper 15
Shenandoah 5             (6 Innings)
Kuemper was in control early as they led 5-1 after the 1st inning. They came close in the 5th to ending the game early but didn't get it done until Blake Pottebaum singled to score Truman Haukap from 2nd with nobody out in the 6th. Luke Hicks walked to start the inning before Haukap singled. Hicks scored on a throwing error to make it 14-5. Then Pottebaum ripped a ball through the infield to seal the win.
The 1st inning was good to the Knights after falling down 1-0 in the top half they sent 11 batters to the plate. They scored 5 runs on three hits. Haukap singled, Kyle Berg singled and Trevor Rial picked up his first career hit with a 2 RBI single. The scoring spurt was helped by 3 walks and two batters hit by pitch.
The lead grew every inning as Kuemer scored at least 1 run in every inning getting 1 in the 2nd, 2 in the 3rd, 4 in the 4th and 1 in the 5th. In the 5th Kuemper had bases loaded with 1 out and hit into a L-4-6 double play to end the inning on a hard hit ball.
Shenandoah didn't quit helping to extend the game with a 3-run 4th inning.
Truman Haukap paced the offense with 3 hits and 2 RBI, Kyle Berg added 2 hits. Trevor Rial had 2 RBI, Blake Pottebaum, Haukap and Luke Hicks all scored twice and Sam Poland scored 3 times.
Kuemper is off until Monday when they travel to Denison Schleswig.
Box      Shen    Kue
1          1          5
2          0          1
3          0          2
4          3          4
5          1          1
6          0          2
Final    5          15
Kuemper Stats
Luke Hicks 1-2, RBI, 2 RS, 3 BB
Truman Haukap 3-5, 2 RBI, 2 RS, SB
Kyle Berg 2-4, RBI, RS, SB, BB
Blake Pottebaum 1-3, RBI, 2 RS, 2 SB, BB
Kurtis Ramsey 1 HBP
Austin Tigges 2 RBI, RS, SB
Michael Pottebaum 1 RS- Pitching 2 IP, 2 Hits, 1 RA, 1 ER, 2 K's, BB
Will Schenkelberg 1 BB, SB- Pitching WP, 4 IP, 5 Hits, 4 RA, 1 ER, 5 K's, 3 BB
Sam Poland 1-1, 2B, 2 RBI, 3 RS, HBP, 2 BB, 2 SB
Kyle Feauto 1-1, RBI, 2 RS, sB
Trevor Rial 1-1, 2 RBI, SB, BB
Logan Sibenaller 1 RS
Audubon At Tri Center
Audubon 3
Tri Center 1
Audubon got another great pitching performance from Jackson Jensen and put together a 3-run 6th inning to pick up a nice road win. The win moves Audubon to 7-5 and drops Tri Center to 7-3. The Wheelers improved to 5-1 in games decided by 2 runs or less.
Jensen pitched into the 7th before giving way to Gavin Smith who picked up the save. Jensen allowed 2 hits and 1 run while striking out 10 in 6 1/3. Smith didn't allow a runner to finish the game.
The offense was quite most of the night but got clutch hits in the 6th. Skyler Schultes doubled, Gavin Smith doubled and Ethan Klocke tripled driving in 2 runs. Those were all the hits they got but it was all that they would need. Smith added an RBI and scored and Schultes scored a run as did Marcus Olsen.
The Wheelers take a needed break and will be back in action on Monday at West Harrison.
Box      Aud      TC
1          0          0
2          0          0
3          0          0
4          0          1
5          0          0
6          3          0
7          0          0
Final    3          1
Audubon Stats
Joel Klocke 1 BB
Marcus Olsen 1 RS, HBP
Skyler Schultes 1-3, 2B, RS, HBP
Gavin Smith 1-3, 2B, RBI, RS, SB- Pitching 2/3 IP
Ethan Klocke 1-3, 3B, 2 RBI
Braden Wessel 1 BB, SB
Derek Porsch 1 BB, HBP
Jackson Jensen WP, 6 1/3 IP, 2 Hits, 1 RA, 1 ER, 10 K's, 4 BB, 2 HBP
SE Valley At Coon Rapids Bayard
Coon Rapids Bayard 10
SE Valley 5
Coon Rapids Bayard has won three straight games out of conference this week after dropping a conference game on Monday night. The Crusaders trailed 3-1 after the 1st inning but scored 5 times in the 4th to grab a 7-3 lead they wouldn't relinquish. The Crusaders improve to 9-3 as they head into a conference matchup at Glidden Ralston on Friday. The game will be on 93.7 KKRL at 5:30.
They out hit the Jaguars 8-5 and were led by Aaron McAlister who finished 2-2 with 3 RBI. Kade Schlepp and Jalen Rosenbeck also had a pair of hits and both had an RBI. Kale Pevestorf was solid on the hill going 4 1/3 innings giving up just 2-runs on 5 hits while striking out 5.
Box      SEV      CRB
1          3          1
2          0          0
3          0          1
4          0          5
5          0          2
6          0          1
7          2          X
Final    5          10
Coon Rapids Bayard Stats
Peyton Clipperton 3 RS, 3 BB, 2 SB- Pitching 2 IP, 3 RA, 2 ER, 3 K's, 3 BB, 2 HBP
Kade Schlepp 2-4, RBI, 2 RS, 2 SB
Aaron McAlister 2-2, 3 RBI, 2 BB
Josh Ramirez 1 BB- Pitching 2/3 IP, 2 K's, HBP
Gabe Obert 1-2, RS, BB
Preston McAlister 1-4, RS, SB
Jalen Rosenbeck 2-3, RBI, RS, 3 SB
Lance Clayburg 1 RS, BB
Kale Pevestorf 1 BB- Pitching 4 1/3 IP, 5 Hits, 2 RA, 2 ER, 6 K's
Kolby Culbertson 1 RS, SB
Jacob Estrada 1 BB
Tanner Oswald 1 SB