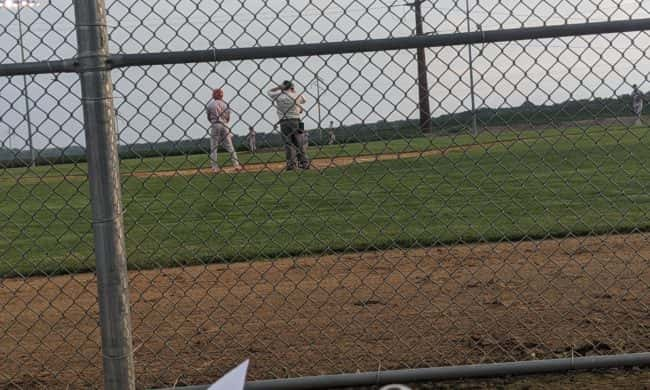 Kuemper At St Albert- Varsity Doubleheader
Game 1
Kuemper 3
St Albert 0
Kyle Berg through a 4 hit shutout and the knights picked up a couple clutch hits in the 6th to extend a 1-0 lead. Sam Poland singled and was followed by a triple from Kyle Feauto giving Berg and the defense a couple insurance runs heading into the 7th. Berg had his best night on the mound striking out 6 while walking 2.
Kuemper only had 3 hits with Truman Haukap, Poland and Feauto collecting those. Feauto triple gave him the teams only RBI. Poland, Feauto and Luke Hicks scored the runs.
Box      Kue      SA
1          0          0
2          0          0
3          0          0
4          0          0
5          1          0
6          2          0
7          0          0
Final    3          0
Kuemper Stats
Truman Haukap 1-3
Sam Poland 1-3, RS, SB
Kyle Feauto 1-3, 3B, RBI, RS
Luke Hicks 1 RS, BB
Kyle Berg 1 BB- Pitching WP, 7 IP, 4 Hits, 6 K's, 2 BB
Jake Hugeback 1 BB
Trevor Rial 1 BB
Game 2
St Albert 14
Kuemper 13
The first game was dominated by pitching so of course the night cap would be a slugfest. The two teams only combined for 16 hits but walks and errors allowed the offenses to put up big numbers. Kuemper pitchers combined to walk 8 batters while St Albert walked 11.
Kuemper scored 3 runs in the 1st, added a run in the 2nd and 3rd before scoring 4 in the 4th and 3 more in the 6th. Kyle Berg had home run and 6 RBI. He went 2-3 at the plate. Will Shenkelberg and Blake Pottebaum each doubled and had 2 RBI.
St Albert won the game by rallying with 2-runs in the bottom of the 7th.
Kuemper heads to Creston on Tuesday.
Box      Kue      SA
1          3          0
2          1          1
3          1          2
4          4          3
5          1          4
6          3          2
7          0          2
Final    13        14
Kuemper Stats
Trevor Rial 1 RBI, RS, 2 BB- Pitching 1 IP, 2 RA, 0 ER, 2 BB
Truman Haukap 2-3, 2 RBI, 2 RS, 2 BB- Pitching LP, 2 IP, 3 RA, 2 ER, K, 2 BB
Kyle Berg 2-3, HR, 6 RBI, 2 RS, HBP, BB
Austin Tigges 1-3, 2 RS, SB
Blake Pottebaum 1-4, 2B, 2 RBI, SB
Will Shenkelberg 1-2, 2B, 2 RBI, BB
Logan Sibenaller 1 RS, HBP, SB- Pitching 2 IP, 4 Hits, 5 RA, 4 ER, K, 3 BB
Kyle Feauto 2 RS, HBP, SB, BB- Pitching 1 IP, 4 Hits, 4 RA, 4 ER, BB
Luke Hicks 3 RS, HBP, BB
Michael Pottebaum 1 SB, BB
Exira-EHK At Glidden Ralston
Glidden Ralston 5
Exira-EHK 4
Wildcats pick up their second win of the season. Grant Borkowski through 6 innings allowing all 4 runs though none of them were earned. The Spartans were only able to get 1 hit against Borkowski who struck out 5 and walked only 2.
Caden Smith and Borkowski came up big offensively. Smith had a two run home run while Borkowski also added 2 RBI and a base hit.
The Wildcats head to West Harrison on Wednesday.
Gildden Ralston Stats
Grant Borkowski 1-1, 2 RBI, RS, SB- Pitching WP, 6 IP, 4 RA, 0 ER, 1 Hit, 5 K's, 2 BB, 3 HBP
Jared Free 1 BB-Pitching 1 IP, 3 K's
Nathan Brant 1 RS
Caden Smith 1-3, 2-Run HR, 2 RBI, RS
John Whitver 1 RS, BB
Ethan Determann 1 RS, BB
Jackson Sklenar 1 BB
Audubon At AHSTW
Audubon 5
AHSTW 3
It was a well-played ball game in Avoca on Monday night as the Wheelers rallied back with 3 runs in the top of the 7th to win their 6th game of the season. Joel Klocke was huge on the mound and nearly had a complete game. Jackson Jensen came in and closed the door in the 7th. Aiden Alt was clutch at the plate all game long and Skyler Schultes, Marcus Olsen and Joel Klocke came up big late.
The Vikings scored in the bottom of the 1st inning on a pair of hits but didn't do much after that. Klocke held them to 3 hits and 3 runs through 6 2/3 innings. They scored a pair of runs in the 5th to take a 3-2 lead but that inning was helped by the defenses only miscue of the game.
Skyler Schultes walked to start the 4th and was followed by a single from Gavin Smith and then a pair of Sac Fly's with RBI from Aiden Alt and Ethan Klocke. The two run 4th gave the Wheelers a brief lead. It didn't look good heading to the 7th after the Wheelers stranded 2 on in the 6th. They would get a chance as Joel Klocke walked with 2 outs in the 7th, Marcus Olsen singled scoring Klocke and tying the game at 3. Skyler Schultes then doubled driving in Olsen and Audubon grabbed the lead. Alt came up huge again with a shot to right field to score Schultes and give the Wheeles some cushion.
Lucas Young had a 1 out walk for AHSTW which ended the night for Klocke on the mound but Jackson Jensen came in and induced a grounder back to the mound and then struck out the final batter on three pitches.
Audubon will host St Albert on Tuesday.
Box      Aud      AHSTW
1          0          1
2          0          0
3          0          0
4          2          0
5          0          2
6          0          0
7          3          0
Final    5          3
Audubon Stats
Joel Klocke 1 RS, 2 BB, SB- Pitching WP, 6 1/3 IP, 3 Hits, 3 RA, 2 ER, 7 K's, 3 BB
Marcus Olsen 1-3, RBI, RS
Skyler Schultes 1-2, 2B, RBI, 2 RS, SB
Gavin Smith 1-4, RS, SB
Aiden Alt 2-2, 2 RBI, BB
Ethan Klocke 1 RBI
Braden Wessel 1-3, 2B
Jackson Jensen 2/3 IP, K
East Sac At Ridge View
Ridge View 5
East Sac 4
East Sac suffered one of those losses on Monday where they are going to feel like they let one slip away. The Raptors scored 3-uneared runs in a 1-run win. Both teams came out and scored early. They both scored 2 runs in the 1st and Ridge View added 2 more in the 2nd. East Sac responded in the 4th and 6th with a run each inning. The Raptors lone run in the 5th turned out to be the difference.
The Raiders were held to 5 hits with Josh Wernimont having the only extra base hit. Wernimont and Maxwel Jessen each had an RBI. Caleb Villhauer, Griffin O'Neill, Sterling Rodman and Jessen combined to allow 6 hits and 4 runs but only 2 were earned.
The Raiders will head to Pocahontas Area on Wednesday.
Box      ESC      RV
1          2          2
2          0          2
3          0          0
4          1          0
5          0          1
6          1          0
7          0          0
Final    4          5
East Sac Stats
Caleb Villhauer 2-4, RS- Pitching 2 ½ IP, 1 Hit, 3 K's, BB
Dylan Meredith 1 BB
Preston Mauer 1 RS, BB
Griffin O'Neill 1 RS- Pitching LP, 5 Hits, 4 RA, 2 ER, K, HBP
Josh Wernimont 1-3, 2B, RBI
Derek Aschinger 1-4
Maxwel Jessen 1-3, RBI- Pitching 1 RA, 0 ER, 2 K's
Sterling Rodman 1/3 IP, K, BB
Emmetsburg At South Central Calhoun
Emmetsburg 6
South Central Calhoun 2
Chase Scheidegger continues to give his team a chance when he is on the hill as he has pitched well this season. Monday he went 6 innings allowing 3 runs while striking out 8. The Titans had 6 hits with Aiden Toms, Scheidegger and Bryce Smidt all going 1-3. Smidt and Evan Jacobs scored their two runs.
South Central Calhoun game on Tuesday with Roland Story is cancelled. The Titans will host East Sac on Friday on KIKD 106.7.
South Central Calhoun Stats
Chase Scheidegger 1-3, HBP- Pitching LP, 6 IP, 3 RA, 8 K's
Bryce Smidt 1-3, RS, BB- Pitching 1 IP, 3 RA
Evan Jacobs 1-4, RS
Aiden Toms 1-3
Trice Lyons 1-4
Truman Boyd Harris 1-3, RBI
Chance Roeder 3 BB
West Harrison At Coon Rapids Bayard
West Harrison 13
Coon Rapids Bayard 6
When you look at the loss Monday for Coon Rapids Bayard two innings stand out. The Hawkeyes used four Crusaders errors to score 9 unearned runs with a 5-run 2nd inning and a 6-run 6th inning right after Coon Rapids Bayard cut it to 7-6. Coon Rapids Bayard was never able to get the game tied or take a lead after falling behind in the 2nd.
The Crusader offense was held to just 5 hits with Quentin Culbertson having 2 along with a pair of RBI. Peyton Clipperton singled and scored twice. Preston McAlister also had a single and an RBI.
The Crusaders head to Alta-Aurelia on Tuesday.
Box      WH      CRB
1          0          0
2          5          0
3          0          2
4          0          1
5          2          3
6          6          0
7          0          0
Final    13        6
Coon Rapids Bayard Stats
Peyton Clipperton 1-3, 2 RS, BB, SB- Pitching 1/3 IP, 1 Hit, 4 RA, 1 ER, K, 2 BB, HBP
Kade Schlepp 1 RBI
Aaron McAlister 1-1, 2B, RBI, BB, HBP
Josh Ramirez 1 RS, 2 HBP
Quentin Culbertson 2-3, 2 RBI- Pitching LP, 5 IP, 6 Hits, 8 RA, 3 ER, 3 K's, 3 BB, HBP
Preston McAlister 1-3, RBI, SB
Jalen Rosenbeck 2 BB
Tanner Oswald 1 RS, HBP, SB
Easton Hays 1 RS
Kolby Culbertson 1 RS
Kale Pevestorf 1 2/3 IP, 9 Hits, 13 RA, 4 ER, 4 K's, 6 BB, 2 HBP
Ar-We-Va At Woodbine
Woodbine 17
Ar-We-Va 3     (5 Innings)
Ar-We-Va picked up 6 hits in the loss with Cooper Kock and Luke Smith each finishing with a pair of singles. Harley Molina and Braeden Kirsch also singled with Kirsch and Dalton Ehlers each finishing with RBI. Kock, Smith and Conner Kirsch scored.
Ar-We-Va will host West Harrison on Friday.
Box      1          2          3          4          5          Final
AWV    1          2          0          0          0          3
WH      11        0          5          1          X          17
Ar-We-Va Stats
Cooper Kock 2-3, RS, SB
Dalton Ehlers 1 RBI
Conner Kirsch 1 RS- Pitching 3 2/3 IP, 2 Hits, 6 RA, 3 ER, 2 K's, 3 BB
Luke Smith 2-3, RS, SB
Harley Molina 1-2
Braeden Kirsch 1-2, RBI
Jeffrey Molina 1 BB
Will Ragaller LP, 2/3 IP, 4 Hits, 11 RA, 10 ER, K, 7 BB, HBP