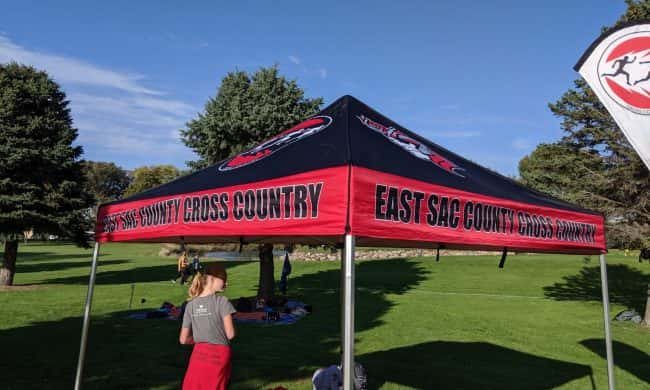 East Sac At Storm Lake Invitational 
East Sac boys competed in Storm Lake on Tuesday. The Raiders ran seven individual's during the race and finished 13th with a team total of 353 points. Nathan Pobanz was their top finisher in 58th place and Parker Engel took 65th. The other five runners were between 67th and 86th place.
East Sac girls also competed at Storm Lake running four girls during the meet. They didn't have enough runners to compete for a team score. Aimee Vaca was their top finisher in 57th place followed by Lauren Litterer in 73rd place. The other two runners took 78th and 80th place.
Boys Team Standings
LeMars 38
MOC Floyd Valley 50
Unity Christian 126
Storm Lake 152
Spirit Lake 158
Algona 161
Harlan 162
Fort Dodge 182
Cherokee 211
Denison Schleswig 288
Estherville Lincoln Central 290
Ridge View 324
East Sac 353 
East Sac Results 
58th Nathan Pobanz            21:23.55
65th Parker Engel                  21:57.95
67th Caleb Eichorn                22:28.91
79th Isaiah Aragon                 23:57. 37
84th Jadon Horton                25:53.89
85th Ethan Peters                   25:57.39
86th Dwight Reiling               27:58.84
Girls Team Standings
Harlan 38
Cherokee 85
MOC Floyd Valley 87
Algona 118
Unity Christian 137
LeMars 173
Spirit Lake 200
Ridge View 210
Denison Schleswig 212
Fort Dodge 237
Storm Lake 261
Estherville Lincoln Central 309
East Sac No Team Score
East Sac Results 
57th Aimee Vaca              26:20.78
73rd Lauren Litterer        28:38.06
78th Cora Mahler             20:39.68
80th Anna McCollough   34:19.12
Audubon At AHSTW
There were no team results reported from the AHSTW meet. The Wheelers had 6 girls compete with Hannah Thygesen finishing 6th overall in a time of 21:13, Katelyn Nielsen also earned a medal with a 15th place finish.
The Wheeler Boys ran three runners with their top finisher being Jackson Deist in 17th place.
No places were reported beyond the three runners with places typed up below.
Audubon Girls Results 
6th Hannah Thygesen        21:13
15th Katelyn Nielsen         23:34
Jordan Porsch                   27:42
Madison Burr                     29:04
Chloe Andersen                 29:35
Taryn Zinke                         32:39
Audubon Boys Results 
17th Jackson Deist               19:14
Eli Deist                                 22:46
Derek Bald                            28:02