Roselle Mutual Insurance "Game of the Week"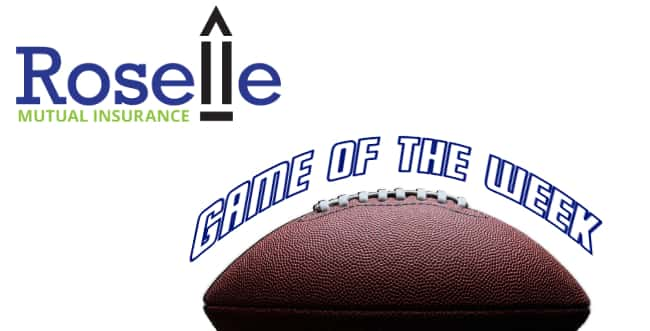 Every Monday for the next 9-weeks we will feature highlights, full video broadcast, and stats for each "Game of the Week".
Aug. 30th  Carroll High vs. Glenwood at Lewis Central
Sept. 6th  Kuemper at South Central Calhoun
Sept. 13th Exira-EHK at Audubon
Sept. 20th East Sac at IKM-Manning
Sept. 27th Carroll High at Webster City
Oct. 4th   Coon Rapids Bayard at Audubon
Oct. 11th  Kuemper Catholic vs. Red Oak
Oct. 18th  Coon Rapids Bayard at CAM Anita
Oct. 25th  Carroll High at Dallas Center Grimes
For highlights from the "Game of the Week" follow us on twitter and facebook.
Week 9:  Carroll High at Dallas Center-Grimes
Dallas Center-Grimes 14    Carroll High 7
The Carroll Tigers fell just short of the playoffs and a district title with a tough road loss on Friday night. Carroll battled back down 14-0 but the four turnovers were too much to overcome. The Mustangs used a short field to build that lead with both touchdown drives under 40 yards.  Carroll had a punt fumble when the ball bounced off the foot of a blocker and three interceptions, one that was returned inside the 10 yard line.
Defenses dominated this game with both teams finishing with under 250 yards of offense. Carroll ran for 129 yards and threw for 107 while Dallas Center Grimes had 91 yards rushing with 34 passing. Ryan Johnston ran for 116 yards and Head Coach Denny McCartan says they staked three running backs several times and were able to have some success running the ball.  Tigers moved the ball into Mustang territory twice but were stopped on downs. The Mustangs took away the jet sweep forcing Carroll to stay inside and try short passes. McCartan says the Mustangs had two safeties deep taking away the long ball.
The Mustangs won the field position battle most of the night. The Tiger defense came up with a fumble recovery and an interception stopping a couple drives in Carroll territory.  Dallas Center Grimes took a 6-0 lead into the halftime. Slade Sibenaller blocked the point after.
The Tigers got on the board late in the 4th on a 5-yard touchdown run making it 14-7 with around 4:00 left. Carroll had timeouts remaining so they kicked deep and got the defensive stop. Carroll moved the ball and were trying to hurry with no timeouts remaining but an interception ended their chances.
The loss drops Carroll to 5-4 overall and 4-1 in the district while Dallas Center Grimes moved to 8-1 overall and 5-0 in the district. They will host Harlan in the 1st round of the playoffs.
Interview with Head Coach Denny McCartan
Carroll Stats
Ryan Johnston 21 carries 116 yards TD
Luke Woosley 5 receptions 76 yards
Ty Nissen 10.5 tackles
Abraham Dirkx 7 tackles
Tory Feldman Interception
Slade Sibenaller fumble recovery, blocked PAT
Week 8:  Coon Rapids Bayard at CAM Anita
Coon Rapids Bayard 32    CAM Anita 26
Coon Rapids Bayard put together the comeback of the season and kept their hopes of a district title alive. They trailed 18-0 in the 1st quarter but rallied back and trailed 18-13 at half and then controlled most of the 2nd half to win 32-26. The win leaves them with a chance of a district title. They need to win over Exira-EHK next week and hope that CAM Anita can rebound to win at Audubon who holds a 1 game lead over both Coon Rapids Bayard and CAM Anita.
CAM came out quick scoring on a 63 yard run on their first possession. They used that momentum to get the Crusaders a little on their heels early. A reverse pass for 32 yards helped them go up 12-0 midway through the quarter. Coon Rapids Bayard couldn't get the run game going and CAM got the ball back and drove the length of the field to go up 18-0.
Crusader Head Coach Chris Mohr was proud of his kids after the game as they didn't panic and began to climb back. Peyton Clipperton broke a tackle in the backfield and hit Josh Ramirez for a 64 yard pass for their first score. Then CRB caught a break. Their kickoff went out of bounds and CAM made them kick it again. This time Coach Mohr wanted a squib kick down the middle of the field. The ball hit a Cougar who had turned to run down field to block and bounced back towards the Crusaders. They recovered the ball and used the great field position to cut it to 18-13 heading into halftime.
That momentum rolled into the 2nd half as the Crusaders established the inside run game. Coach Mohr says they didn't do anything fancy in the 2nd half and pounded the middle of the defense. Peyton Clipperton kept the ball on a boot leg and rambled 34 yards to put the Crusaders up in the 3rd. The 19-18 lead was their first of the game and they wouldn't trail again. Jeffrey Eagle was a work horse carrying the ball 46 times for 176 yards and two touchdowns. The second one, a 3 yard run put the Crusaders up 26-18 with just over six minutes left. CAM answered, tying the game at 26.
Gabe Obert had a punt return for a touchdown called back earlier in the game, took the kickoff back for a touchdown giving the Crusaders the lead back and the momentum. The defense made a stop and CRB was able to run the clock out to move to 7-1 overall and 5-1 in the district.
Coon Rapids Bayard travels to Exira-EHK on Friday who comes in 4-4 and 3-3.
Interview with Head Coach Chris Mohr
Coon Rapids Bayard Stats
Peyton Clipperton 18 carries 91 yards TD
Jeffrey Eagle 46 carries 176 yards 2 TD
Josue Ramirez 1 reception 64 yards TD
Jacob Hoffman 6 tackles
Week 7:  Red Oak At Kuemper
Kuemper 45    Red Oak 0
Kuemper had the size advantage on both sides of the ball and used that to improve to 2-5 overall and 1-2 in district play with a convincing win over Red Oak. This was the type of game Kuemper needed heading into next week's matchup at OA-BCIG.
Red Oak opened the game with an onside kick as they needed to throw everything they could at Kuemper early. They recovered it around midfield and were able to get a first down before having to punt it away. That was about as good of a possession as they had all night. Kuemper defense put pressure on Jake Echternach forcing him into a couple interceptions and many hurried throws as Kyle Berg and Blaise Gunnerson were normally in his face as he released it. Echternach finished the game 11-26 for just 83 yards while having 8 carries for -14 yards. Red Oak struggled to establish any kind of a running game early and went to pass game for most of the game.
Offensively things looked good for the Knights. Kuemper moved the ball down the field mixing in a few passes with the power run game which was cheweing up over 8 yards per rush. Cole Collison nearly punched it in on a 13 yard run but was hit and fumbled near the goal line. The ball rolled into the end zone and Jake Hugeback fell on it for a touchdown. Kuemper scored on their first three drives, twice getting 2 yard runs from Kyle Berg. The scoring drives went for 86, 64 and 60 yards. The 7-0 end of the 1stquarter score quickly rose in the 2nd with Kuemper leading 21-0 with 6:53 left in the half.
Cal Wanninger set up the next score picking up a fumble and taking it to the Tigers 17. Two plays later Berg scored for the 3rd time and the route was on. Cole Collison added a 1 yard run with 0:20 left in the half to make it 35-0.
With the continuous clock in the 2nd half Kuemper continued to do a nice job of mixing the run and pass and scored 10 points on a Collison 5 yard pass to Gunnerson and a 36 yard field goal from Simon Wagner. The Knight defense created two turnovers with Connor Stoelk getting an interception and John Mayhall recovering a fumble.
Unofficially Cole Collison had 153 yards on 13 carries with a touchdown. Kyle Berg had 8 carries for 43 yards with 3 touchdowns. Collison was 9-20 for 92 yards with several dropped passes that could have added nearly 100 yards and a couple more scores. Collison finished with a touchdown and an interception.
The Kuemper At OA-BCIG game will be broadcast on KIKD 106.7 with Nick Brincks and Doug Wanninger.
Interview with Chad Klein
Kuemper Stats-Unofficial
Cole Collison 13 carries 153 yards TD- 9-20 passing 92 yards TD, INT
Kyle Berg 8 carries 43 yards 3 TD
Week 6:  Coon Rapids Bayard @ Audubon
Audubon 37     Coon Rapids Bayard 12
Audubon knew they had to be physical and stop the Crusader run game if they wanted to come away with the win and they were able to do it as they held Jeffrey Eagle to 154 yards on 22 carries. Neither team did a lot offensively in the 1st half. Audubon finally got on the board late in the 2nd quarter on a 1 yard run from Skyler Schultes. Schultes set up their second touchdown with a 39 yard run after the defense forced another 3 and out. Kaiden Smith then scored on a great one handed grab on a 25 yard pass from Gavin Smith.  The touchdown made it 14-0 at the half.
Wheeler Head Coach Sean Birks praised his defense for keeping the Crusaders in check and not letting them get the ball across midfield in the 1st half. He says the defense was outstanding and kept them in the game until the offense got going.
Coon Rapids Bayard responded early in the 3rd as they their best drive of the game to that point. Peyton Clipperton scored on a 7 yard keeper but the point was no good and the Crusaders were back in the game down 14-6.  Audubon answered with a good drive and scored on a 14 yard run. The 2 point conversion made it 22-6.
The game stayed that way until early in the 4th quarter.  Kaiden Smith put the Wheelers up 30-6 with a touchdown run. Eagle answered for Coon Rapids Bayard to make it 30-12. Kaiden Smith ran for another score to wrap up the scoring.
The Audubon defense held the Crusaders to 192 yards rushing and 57 yards passing. Offensively the Wheelers had both Skyler Schultes and Kaiden Smith go over 100 yards rushing. Schultes had 14 yards and 2 touchdowns and Smith finished with 106 yards and 2 rushing touchdowns. Smith added 2 catches for 44 yards and a touchdown. Audubon finished with 263 yards rushing and 88 yards passing.
Audubon moves to 6-1 overall and 4-0 in district play and should move up in the polls. They head to 1-5, 0-4 in district play. Coon Rapids Bayard suffers their first loss of the season falling to 5-1 overall and 3-1 in district play. They will host Glidden Ralston on 93.7 KKRL. The Wildcats are 3-3 and 1-3 in district with a 50-6 win over Boyer Valley.
Interview with Audubon Head Coach Sean Birks
Interview with Coon Rapids Bayard Head Coach Chris Mohr
Audubon Stats
Skyler Schultes 26 carries 145 yards 2 TD
Kaiden Smith 14 carries 106 yards 2 TD- 2 receptions 44 yards TD
Ethan Klocke 3 receptions 44 yards
Eric Hermansen 8 tackles
Joel Klocke 8 tackles
Coon Rapids Bayard Stats
Jeffrey Eagle 22 carries 154 yards TD
Peyton Clipperton 16 carries 29 yards TD
Blaine Dudley 2 receptions 57 yards
Gabe Obert 9.5 tackles
Josue Ramirez 7.5 tackles
Week 5: Carroll @ Webster City
Carroll 28    Webster City 13
Carroll gave up a 91 yard drive on Webster City's first possession of the game but then settled in and didn't allow much the rest of the game as the Motor Inn Player of the Game Chase Gladden and his defensive teammates took control and slowed down the single win attack of the Lynx.
Offensively the Tigers didn't have a lot of total offense gaining only 235 yards with 112 through the air and 123 on the ground but they capitalized on situations and Ryan Johnston scored on 3 short touchdown runs.  Gladden not only made a difference on the defensive side of the ball, he also blocked a punt that was picked up and returned 20 yards for a touchdown by Caden Koch. That helped seal the win and move the Tigers to 1-0 in district play and 2-3 overall and dropped Webster City to 3-2 and 0-1.
Carroll trailed 7-0 after the 1st quarter but a pair of Johnston runs gave them a 14-7 lead at the half. Trey Mathis hit Carroll for a 55-yard touchdown in the 3rd. Carroll had a couple chances to tackle him but he was able to slip through and scored. The Lynx missed the extra point and Carroll remained up 14-13.
Carroll answered in the 4th with a 16 play drive that ate up over 8:00 minutes. Carroll converted two 4th down conversions leading to the 3rd touchdown run of the night for Johnston. The Tigers only threw it a couple times on the drive and Head Coach Denny McCartan says they just kept picking up 3 to 6 yards per run play and kept getting 1st downs. The extra point made it an 8 point lead. Gladden then blocked the punt and Carroll sealed the win.
Carroll comes home to host Boone for Homecoming on Friday night on KCIM.
Interview with Head Coach Denny McCartan
Carroll Stats
Colby Vincent 6-13 passing 112 yards INT
Ryan Johnston 19 carries 74 yards 3 TD's
Abraham Dirkx 13 tackles with 12 of those solo
Tory Feldman 3 catches 72 yards
Slade Sibenaller 7.5 tackles
Caden Koch 20 yard TD on blocked punt
Week 4:  East Sac @IKM-Manning
IKM-Manning 17     East Sac 7
IKM-Manning picked up their first win of the season sending both them and the Raiders into district play 1-3.  Both defenses played well and both offenses hurt themselves with penalties.
The Wolves built a 10-0 lead as they controlled the field position battle in the 1st half. Parker Behrens had a nice punt return setting up the first of two Kyler Rasmussen touchdown runs. Rasmussen was a workhorse for IKM-Manning carrying the ball 26 times for 115 yards. The rest of the Wolves struggled with 20 carries for 32 yards.  Nolan Ramsey hit enough passes going 3-5 for 33 yards including a crucial one to Amos Rasmussen for 34 yards that set up a 31 yard field goal by Amos.
East Sac flipped the script in the 2nd half starting several possessions in Wolves territory but hurt themselves with penalties and couldn't capitalize until Tyler Schmitt showed his speed on a nice 37-yard run cutting the Wolves lead to 10-7 with 4:27 left in the game.
East Sac needed a get a stop to give themselves a chance but IKM-Manning put the ball in the hands of Kyler Rasmussen who picked up a couple first downs. Nolan Ramsey also took a busted play up the middle for an 11-yard gain and a first down. IKM-Manning had the ball 4th and 1 at the 2 and scored on a handoff to Kyler Rasmussen sealing the win.
Quintin Ludwig had a nice game running the ball for Raiders finishing with 45 yards on 12 carries.  A lot of his yardage came on cut backs.
IKM-Manning hosts 2-2 St Edmond on Friday while East Sac comes home to face 7th ranked and 4-0 Treynor.
Interview with Wolves Head Coach Tom Casey
Interview with Raiders Head Coach Eric McCollough
IKM-Manning Stats
Kyler Rasmussen 26 carries 115 yards 2 TD
Amos Rasmussen 1 reception 34 yards
Nolan Ramsey 3-5 passing 33 yards
Colten Brandt 7 tackles
East Sac Stats
Quintin Ludwig 12 carries 45 yards- 1 reception 56 yards
Tyler Schmitt 11 carries 41 yards TD
Nick Gerdes 12 tackles
Week 3:  Exira-EHK @ Audubon
Audubon 48    Exira-EHK 6
Week 2:  Kuemper At South Central Calhoun
South Central Calhoun 30   Kuemper 6
South Central Calhoun took advantage of some early turnovers as their defense really dominated most of the game setting them up for 2 first half touchdowns as they roll to 2-0 on the season and drop the Knights to 1-1.  The Titans forced 4 turnovers in the game after turning Kuemper over 5 times in last year's win.
Josh Henkenius played a big role in the early success on defense picking off a Cole Collison pass on Kuemper first possession, setting the Titans up deep in Kuemper territory. South Central Calhoun struck quickly from there as Keagen Meyer scored from 6 yards out on the 3rd Titan play of the game. South Central Calhoun added to the lead to start the 2nd quarter as they stalled inside the 10 yard line but Zane Neabaum kicked a 19 yard field to extend the lead to 10-0.
Another Kuemper turnover turned into a near scoop and score for Henkenius but he ended up falling on the football at the 3 yard line and Landon Schleisman punched it in from there to extend the lead to 17-0 early in the 2ndquarter.
Titans Head Coach Bryan Case was happy how they were able to run the ball saying the staff challenged the guys after last week and he felt they responded well. Case says they planned to use both quarterbacks but Cole Corey was in a good rhythm so they kept him in the game and that allowed Henkenius to stay on defense where he finished with 2 interceptions and a fumble recovery.  Brian King was named Motor Inn Player of the game as he was in the backfield most of the game either stuffing the run or chasing Collison and forcing him to throw before he wanted to at times.
Kuemper Head Coach Chad Klein says they kept shooting themselves in the foot with turnovers and penalties which stalled a few drives. It forced them to use a lot of energy on defense which also impacted their focus on the offensive side of the ball. Coach Klein says they talked to the guys at halftime about staying positive and reminded them that they scored enough points in the 2nd half against St Albert in Week 1 to get them back into this game.
Blake McAlister pretty much secured the game for South Central Calhoun on his 11 yard touchdown run late in the 3rd extending the Titans lead to 24-0. Kuemper had their best drive early in the 4th and Collison hit Blaise Gunnerson for a 6 yard touchdown to make it 24-6. Brennan Holder sealed the game with a 33 yard touchdown run midway through the 4th to make it 30-6. The Titans had 4 different players score touchdowns this week after 6 different guys scored last week.
South Central Calhoun stays at home to host IKM-Manning while Kuemper returns home to entertain Glenwood next Friday.
South Central Calhoun Stats
Cole Corey 7-11 91 yards
Landon Schleisman 12 carries 75 yards TD
Keagen Meyer 10 carries 64 yard TD
Chase Scheidegger 1 reception 41 yards
Josh Henkenius 6.5 tackles, 2 Int,  fumble recovery
Kuemper Stats
Cole Collison 12-33 passing 124 yards TD, 3 INT- 15 carries 77 yards
Kyle Berg 12 carries 51 yards- 6.5 tackles
Blaise Gunnerson 6 receptions 65 yards TD
Week 1:  Carroll vs Glenwood At Lewis Central
Glenwood 44    Carroll 28
Click here to watch the game again!
The game was a game of runs early on as Glenwood built a 14-0 lead in the 1st quarter with some big plays in the passing game including a 63 yard strike with 2:30 remaining for their 2nd score.  Carroll switched around their defense moving guys around in the secondary and at linebacker and was able to slow them down the rest of the half while their offense started to heat up.  Colby Vincent hit Luke Woosley on the first of his four touchdown passes and Carroll cut into the deficit early in the 2nd quarter and trailed 15-7.  Vincent finished with 271 yards passing and 4 TD's while Woosley caught 8 passes for 95 yards.
The defense then came up big after Zach Carr ran to the 5 yard line. Abraham Dirkx made the touchdown saving tackle.  A couple sacks later and Glenwood was forced to try a 36 yard field goal and missed. Carroll took that momentum and drove the field scoring on a 36 yard touchdown pass to Tory Feldman and Carroll tied the game at 14 with 4:44 remaining.  The rally continued when Vincent hit Colby Christensen for a 23 yard touchdown and Carroll took a 21-14 lead.
Glenwood answered quickly before the half, scoring on a 39 yard pass. The missed extra point gave a Carroll a 21-20 lead at half.  Glenwood stuck quickly again at Carr hit Ryan Blum for a 58 yard touchdown to start the 3rd and they led 27-21. They would add a 42 yard field goal from Brock Sell to stretch the lead to 30-21 with 3:48 left in the 3rd.
Colby Vincent hit Tory Feldman for his 2nd touchdown catch of the game, this time from 12 yards and Carroll trailed 30-28 starting the 4th.  The touchdown was set up by a pass to Colby Christensen who finished with 4 catches for 74 yards and touchdown.
Another strike from Carr this time to John Palmer for 40 yards gave the Rams a 37-28 lead early in the 4th.  Carroll Defensive Coordinator Craig Rowedder said the Tigers were there defensively but Glenwood had just enough speed to get the seam on the crossing route and made enough big plays. Carr threw his 5th touchdown pass with 5:18 remaining as Glenwood put the exclamation point on their win.  All 5 of his touchdown passes were 39 yards or more. Carr finished the game unofficially with 13 completions for 390 yards.
Rowedder told Carroll Broadcasting on Saturday during the Mc's Café Coaches show that the offense did enough scoring 28 points but they didn't make enough stops on defense.  The Tigers will look to bounce back at home this Friday when they host Ballard.
Carroll Stats
Colby Vincent 16-33 271 yards 4 TD's, INT
Korey Nieland 9 carries 44 yards
Luke Woosley 8 receptions 95 yards TD
Colby Christensen 4 receptions 74 yards TD
Tory Feldman 4 receptions 105 yards 2 TD