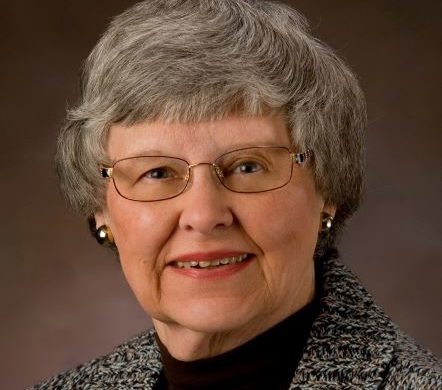 Rosemary Joan Niceswanger, age 88, of Carroll passed away on Saturday, March 21, 2020 at Accura Healthcare of Carroll.
      A private family funeral service will be held at the Dahn and Woodhouse Funeral Home in Carroll with Rev. Terry Plocher officiating.  Burial will be in the Carroll City Cemetery.
      In consideration of Rosemary's many extended family members and good friends, a celebration of her life will be held at a later date due to the current COVID19 restrictions.
      Arrangements are entrusted to the Dahn and Woodhouse Funeral Home in Carroll and online condolences may be left for the family.
      In lieu of flowers, a memorial fund has been established in Rosemary's name for a later designation.  Memorials may be sent to: Dahn and Woodhouse Funeral Home 705 N. Carroll St.  Carroll, Iowa 51401.
      Born on October 2, 1931 in Carroll, Iowa, she was the daughter of Kenneth and Catharine (Shollenberger) Holley.  She grew up in Carroll and graduated from Carroll High School in 1949.  Following high school, she attended St. Anthony's School of Nursing and she worked at the Carroll Public Library.  She was married to Wayne L. Niceswanger on April 17, 1955 at First Presbyterian Church in Carroll.  Rosemary went to work for Sernett's Department Store in 1972 where she worked until its closing.  She then worked for Hy-Vee Grocery Store in the Bakery for seven years and later with her son Eric and daughter-in-law Janel at Niceswanger Photography.  She was a member of the First United Methodist Church in Carroll.
     Rosemary is survived by her two sons: Kevin Niceswanger and his wife Lacey of Grand Forks, North Dakota, and Eric Niceswanger and his wife Janel of Carroll; six grandchildren: Rachel Parsley of Charlottesville, Virginia, Amy Riordan and her husband Tony of Waukee, Iowa, Jeffry Niceswanger of Duluth, Minnesota, John Ferguson and his wife Maura of Grand Forks, North Dakota, and Trisha Niceswanger of Atlantic, Iowa and Keely Ferguson of San Francisco, California; seven great-grandchildren: Hunter, Mairi, Jonas, Charlotte, Sophia, Bellamy, and Rocco; a sister Marguerite "Copee" Wells of Carroll; a brother Allen Holley and his wife Mary of Bellevue, Nebraska; and several nieces, nephews and cousins.
     Rosemary was preceded in death by her parents Kenneth and Catharine Holley; her mother and father-in-law Frank and Ruth Niceswanger; her husband Wayne in 1984; and her in-laws: Bill and LaMerle Kennelley, Bernie Wells, and Dennis and Marian Niceswanger.