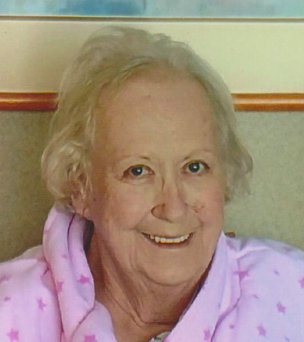 Jean Ann Short, 75, of Carroll died Wednesday, Jan. 8, 2020, at Regency Park Nursing Home and Rehabilitation Center following a battle with cancer.
Mass of the Christian Burial will be celebrated at 10:30 a.m., Monday at St. Lawrence Church. The Celebrant will be Fr. Kevin Richter. Music will be by Kate Cuddy and the St. Lawrence Choir. Gift Bearers will be Jean's family. Casket Bearers will be: Jim Millenacker, Keith Heithoff, Michael Felix, Andy McGowan, Mike McGowen, and Paul McGowan. Burial will be in Mt. Olivet Cemetery in Carroll.
Visitation will be held from 9:30 a.m until time of mass Monday Morning.  Memorials may be left at the funeral home or the church for St. John Paul II Parish – St. Lawrence Church or for Kuemper Catholic Schools.  Funeral arrangements are under the guidance of the Sharp Funeral Home in Carroll and online condolences may be left for Jean's family at www.sharpfuneral.com.
Born on July, 23 1944, in Gray, Iowa, Jean was the daughter of Clarence and Elenore (Kerwin) Spaen. She lived in Carroll most of her life and graduated from Kuemper Catholic High School in 1962. She also graduated from Commercial Extension Secretarial School in Omaha, Nebraska, and later attended DMAAC in Carroll.  On May 6, 1967, Jean married James L. Short at Sts. Peter and Paul Church in Carroll. They had two children, Chris and Kelly. Jean worked a variety of jobs, including General Electric for 17 years.
In her younger years, Jean liked to swim, boat, water ski, dance, play piano and clarinet. In her later years, she enjoyed playing cards, playing board games, reading with her great grandchildren, taking trips and going to the movies. She also enjoyed watching family friend Nick Nurse's games with both the Iowa Energy and Toronto Raptors. Jean was a kind, loving, generous, loving person who loved children, animals and the elderly.
She is survived by sons: Chris Short of West Des Moines and Mark Suing of Lindstrom, MN; grandchildren: Tessa and Sterling Short of West Des Moines and Anthony Short of Carroll; great grandchildren: Adrian Short and Audrey Hill of Carroll; sister Judith Spaen of Omaha; brother Richard (Sharon) Spaen of Woodbury, MN; brother in law, Francis Short of Carroll; niece, Danielle Spaen; nephews, Eric Spaen and Mark Short; and a host of loyal friends.   Jean was preceded in death by her parents, Clarence and Elenore Spaen;, daughter, Kelly Short; husband, James Short; brother, Dave Spaen; mother-in-law, Coletta Short; brother-in-law, Bob
Short; and sister-in-law Kathy Spaen.