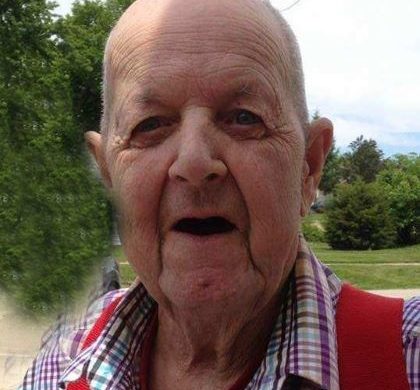 Charles Henry Sandeen Jr., age 86, of Lidderdale, IA, passed away on June 27, 2020 at Accura Healthcare in Carroll.
    Funeral service will be held at 11:00 A.M. on Monday, July 6, 2020 at the Dahn and Woodhouse Funeral Home in Carroll with Rev. Lance Charlot officiating.   Visitation will be held at the funeral home for one hour prior to the service.  Casket bearers will be Brian, Jerry, Kevin, David, and Dwight Sandeen, and Mike and Jeff Brown.
    Graveside services will be held at the Iowa Veteran's Cemetery in Van Meter on Monday, July 6, 2020 at 2:00 P.M.
     Funeral arrangements are under the direction of the Dahn and Woodhouse Funeral Home in Carroll.
     Charles was born on August 13, 1933 in Correctionville, IA, and he was the son of Charles Sr. and Velma (Monk) Sandeen.  Charles grew up in various locations and graduated from high school in Cambria, IA.  Charles served in the United States Marine Corps for 1953 – 1956.  He was married to Mary Jean Barnhouse on January 23, 1958 at First Baptist Church in Des Moines.  The couple made their home in Lanesboro and moved to Lidderdale in 1994.  Charles worked for Carroll Manufacturing for 25 years. Charles enjoyed sports, the Chicago Cubs, the Iowa Hawkeyes, playing cards, reading western novels, and watching western movies.
     Charles is survived by his wife Mary of Lidderdale; six children and families: Brian Sandeen of Scranton, Jerry Sandeen of Manning, Kevin Sandeen of Manning, daughter Kelly Kaspersen of Carroll, David Sandeen (Christiane) of Norfolk, VA, and Dwight Sandeen of Rolla, MO; four grandsons: Adam, Andrew, Jason, and Justin; three great grandchildren: Eleanor, Aria, and Alexander; a half-sister Jackie Radishel; a half-brother James Sandeen; a sister-in-law Wanda Flatland of Cresco, IA, a sister-in-law Judy Vinson of Leon, IA; a brother-in-law Fred Barnhouse of Coggon, IA; and several nieces and nephews.
     Charles was preceded in death by his biological father Charles Sandeen Sr., his step-father Doran Vinson; his mother Velma Vinson; a sister Doris "Sandy" Wolf; and step-brothers: Guy, Richard, Carl, and Jim Vinson; and his son-in-law Terry Kaspresen.