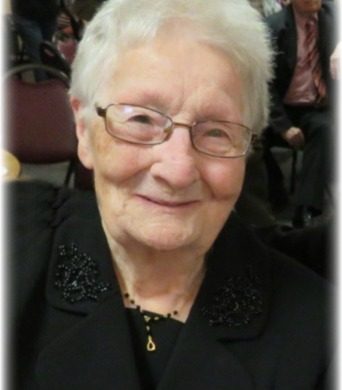 Beth Elaine McLean was born on November 24, 1926, at Finley Hospital in Dubuque, IA, to parents Frank E. and A. Marie (Paisley) McLean. Her family moved to Parkersburg, IA, in 1932, where her father purchased a closed creamery. Beth graduated from Parkersburg High School in 1944. She later received a BA Degree from the University of Northern Iowa, then a Master's Degree from
Morningside College in Sioux City, IA. She taught in the Aplington, Eagle Grove and Clarion elementary schools, and after moving to Sac City, she taught in the resource room as a Special Education teacher in Fonda. Beth retired from teaching in 1988.
Beth dedicated herself to raising her son, Steve, and her daughter, Cathy. Her children, home, family, school and church were all very important to her. She enjoyed refinishing furniture and working on the farm. Beth enjoyed traveling with her husband Floyd Schnirring, especially the many trips to Europe they made together– many of them related to Floyd's work as Sac County
Extension Director. Beth was a member of the First Christian Church in Sac City where she taught Sunday School and helped with the youth group. She also chaired the Outreach Committee at the church and participated in many church activities.
Those proceeding her in death were her parents; daughter Cathy Larimer; husband Paul B. Nicklaus; husband Floyd L. Schnirring; brother Ellis McLean; and sister-in-law Betty McLean.
Beth is survived by her son, Steve (Sue) Nicklaus of Clear Lake, IA; son-in-law Bruce Larimer of St. Louis, MO; grandson Michael Larimer of St. Louis, MO; great-grandchildren Nicklaus and Madilyn Turner; brothers Loyal (Norma) McLean of Charles City, IA, Duane McLean of Cedar Rapids, IA. Also her husband Pastor Donald W. Gibson of Wall Lake, IA; his six children Dave (Debbie) Gibson of St. Louis, MO, Susan (Marvin) Arnold of Wall Lake, IA, Diane (Charles) Herd of Garden Grove, CA, Nancy (John) Funk of Sun City, AZ, Karen (Mike) Bruggeman of Chandler, AZ, Barbie (Jeff) Sunderland of Eden, UT; his 15 grandchildren; his 9 great-grandchildren; many extended family members and friends. Beth will be dearly missed by all who knew and loved her.
"We've been taken care of before, and with Faith we will be taken care of again." ~Beth
Funeral services for Beth will be held at 2:30 p.m., Friday,February 12, 2020, at the First Christian Church in Sac City with Reverend Mark MacWhorter officiating. Burial will be at the Cedar Cemetery in rural Sac City under the direction of the Farber & Otteman Funeral Home. Visitation is prior to the service on Friday from 1:30 through 2:30 p.m. at the church.