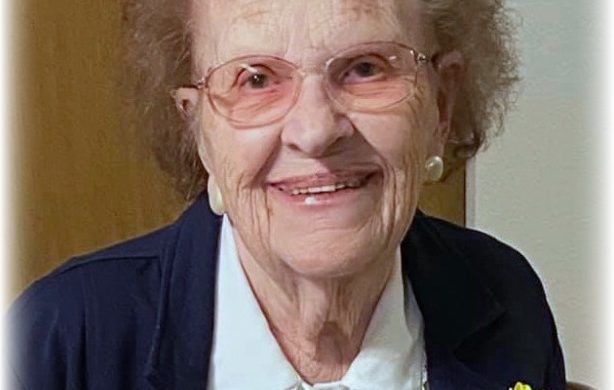 Aline Luckow, age 96 of Sac City, IA, passed away peacefully on Wednesday, September 9, 2020, at UnityPoint Paula J. Baber Hospice House in Fort Dodge, IA.
   Aline Delores Ziegler was born on February 23, 1924, to Richard and Mamie (Waage) Ziegler in Volga, SD, the oldest of ten children. She was baptized and confirmed at First Lutheran Church in Volga. Aline graduated with Volga High School's class of 1942. She furthered her education at South Dakota State University in Brookings, SD.  After one year, she transferred to the University of Iowa in Iowa City, IA, due to the start of World War II. In 1946, Aline graduated with a Bachelor's Degree in Home Economics. Aline worked as a Home Economics teacher in Hawarden, IA, before accepting the same position in Sac City, where she met many lifelong friends. She was introduced to Everett through family friends. 
   On June 23, 1951, Aline married Everett Luckow at First Lutheran Church in Volga, SD. This union was blessed with four children: Paul, Karen, Wayne, and Sheryl. Aline stayed home to raise their family. Aline found much joy in gardening and preserving food for the family. She took pride in planting beautiful flowers around the farm. Aline was a wonderful seamstress. She used her talent to make clothes, including wool coats for her family. Aline was an avid baker, as well as an accomplished cook. She loved trying new recipes and making home-cooked meals for everyone to enjoy. She was a 4-H leader and judge at the county fair. In 1964, Aline accepted a position as the dietician at Loring Hospital where she worked for 34 years. 
   Aline was an active member of St. Paul Lutheran Church in Sac City, where she was a member of the Ladies Aid. Aline always looked forward to visiting family and friends and enjoyed family reunions. Over the years, Aline and Everett's family enjoyed traveling to visit relatives. Her favorite place to visit, since her childhood, was Nashville, TN. She took two special trips to Norway with Karen's family. 
Family was very important to her, second only to her faith and love of God. She was an exceptionally proud mother, grandmother, and great-grandmother. Aline was a thoughtful, dedicated, strong woman who will be missed dearly by all who knew and loved her. 
   Those left to cherish her memory include her children: Paul Luckow (Karen Wass) of Deerfield, IL, Karen Hjelmeland of Algona, IA, Wayne Luckow (Karen Lucht) of Sac City, IA, Sheryl (Jay) Siems of North Liberty, IA; grandchildren: Patrick Luckow (Cindy Dunn), Peter Luckow, Anna Luckow, Bjorn (Taylor) Hjelmeland, Brian (Abbi) Hjelmeland, Erik Hjelmeland (Samantha Sics), Gregory (Mandie) Siems, Ryan Siems (Kacey Ford), Lauren Siems, Sarah (Nick) Gunn, Emily (Jamie) Reed, Katie (Justin) Neumann, Nathan (Amber) Lucht, great-grandchildren: Emerson, Parker, Hattie, Eliza, Zeke, Logan, Lilah, Lily, Henry; brother Gerald (Marilyn) Ziegler; sisters: Evelyn Scharn, Verdell (Bob) Wiles, Arlys (Leonard) Eilts, Beverly (Bruce) Wosje; sisters-in-law Carol Ziegler and Marie Luckow; many extended family members.
   Aline was preceded in death by her husband of 60 years, Everett Luckow; parents Richard and Mamie Ziegler; parents-in-law Robert and Anna Luckow; brothers: Richard, Larry, and Ron (Judy) Ziegler; sister Clarice (George) Wells; brother-in-law Edward Scharn; son-in-law Jan Kristian Hjelmeland.
  Funeral Services will be held at 11:00 a.m. on Monday, September 14, 2020, at St. Paul Lutheran Church in Sac City, IA, with Pastor Don Pobanz officiating. Burial will take place at Oakland Cemetery in Sac City under the direction of Farber & Otteman Funeral Home of Sac City. Visitation will run from 3:00-6:00 p.m. on Sunday, September 13, 2020, at Farber & Otteman Funeral Home in Sac City. In lieu of flowers, the family will be designating a charity for memorial contributions.