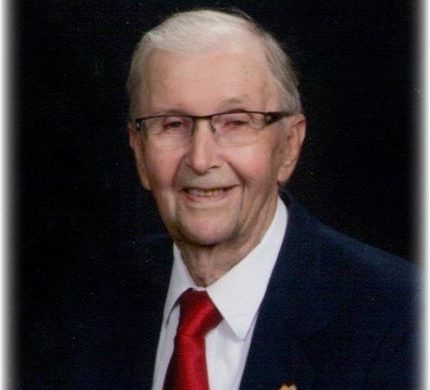 Wes Cole, age 94 of Sac City, IA, passed away on September 25, 2019, at Mercy Medical Center in Sioux City, IA.
Wesley Harold Cole was born on October 25, 1924, to parents Reo and Alveda (Peterson) Cole in Sac City. He was baptized and confirmed in the Methodist faith and was a member of the United Methodist Church in Sac City for over ninety years.  Wes grew up in rural Sac City with his parents and brother Gordon. He attended school through the eighth grade and after that, farmed with his family. He was a 4 th generation farmer on the family farm north of Sac City.
On January 14, 1945, Wes married the love of his life, Beulah Lucille Zimmerman. This union was blessed with two sons, Jeffrey and Jerry. He was drafted into the US Army on July 17, 1945, and served during World War II. He was honorably discharged on May 7, 1946.  Wes was passionate about life as a farmer as well as being a part of his community. He was a member of the Sac Country Club for over 45 years, was on the Sac City Fire Department Board of Directors, and was a member of United Methodist Men. He loved playing cards, especially poker. Wes was also an avid golfer and thoroughly enjoyed time spent on the course. Above all though, Wes loved the Lord and his family. He was delighted to be a grandpa and later on a great-grandpa. He will be dearly missed by all who knew and loved him.
Those left to cherish his memory include his wife of 74 years, Beulah Cole of Sac City, IA; sons: Jeffrey (Sharon) Cole of McKinney, TX, and Jerry (Jeannie) Cole of San Diego, CA; grandsons: Jason (Andra) Cole of Wimberley, TX, and Adam (Shonna) Cole of Frisco, TX; great-grandchildren: Brenner, Jack, Grant, and Ryan Cole; many extended family members and friends.
Wes was preceded in death by his parents, Reo and Alveda Cole; brother Gordon Cole; and several extended family members and in-laws.
A memorial service at the United Methodist Church in Sac City, IA, will be held on Saturday, December 7, 2019, at 2:00 p.m. with Reverend Missy Brown officiating. Innurnment will be at the Oakland Cemetery in Sac City. The Farber & Otteman Funeral Home of Sac City is in charge of arrangements.