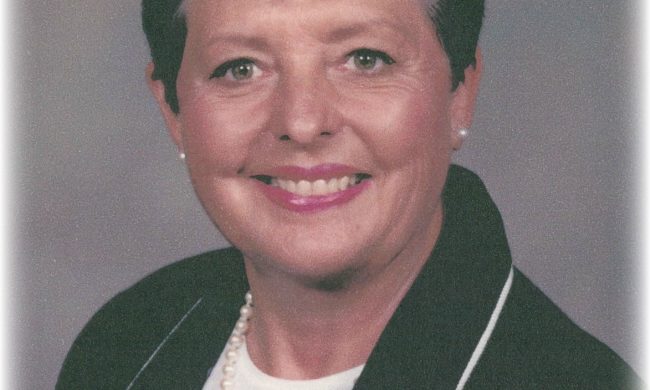 Shirley Fogerty, age 82 of Sun Lakes, AZ, formerly of Maple River, IA, passed away peacefully on Monday, July 1, 2019, at the Lund Home with Hospice of the Valley in Gilbert, AZ, with her best friend and husband of over 60 years by her side.
Shirley M. Kramer was born on December 19, 1936, in Maple River, IA, to parents Henry and Theresa E. (Steinkamp) Kramer. She and her four siblings were raised by their parents in Maple River, Mount Carmel, Breda, and Lidderdale, all small NW Iowa towns.
Shirley was baptized at St. Francis Catholic Church in Maple River and was confirmed at St. Bernard Catholic Church in Breda. She attended the 1st grade at St. Francis Catholic School in Maple River, 2nd and 3rd grades at Our Lady of Mount Carmel Catholic School in Mount Carmel, and then grades 4th through 8th at St. Bernard Catholic Grade School in Breda. Shirley graduated with the Class of 1954 from St. Bernard Catholic High School in Breda. After graduation, she attended the American Institute of Business in Des Moines, IA, and graduated from there in 1957.
On August 31, 1957, Shirley married the love of her life, Dale T. Fogerty, at the Holy Family Catholic Church in Lidderdale. This union was blessed with two children, Glen and June.
Shirley worked as a receptionist and bookkeeper up until October of 1959. Dale's corporate career with both Caterpillar Tractor Co. and later IBM would have them relocating many times throughout the years, twenty-two to be exact. Shirley loved being a mother and being able to stay at home with her children as they grew. Together, she and her family enjoyed traveling and camping. They purchased their first temporary 'home on wheels' in 1968, a small pop up camper. Later of course, they would graduate to larger campers and RV's. This is something that Shirley and Dale continued to do together and were proud to be able to say that they had traveled in their RV to every state in the United States except for Hawaii, before settling into their 5th wheel trailer in 2008 in Pinetop, AZ, which was where they spent their summers.
Shirley had many interests and hobbies, many of which she shared with Dale. Those included hunting, attending NASCAR races, fishing, trap shooting, bowling, and ocean cruising. Aside from those she also enjoyed reading, gardening, cross stitching, genealogy, and making rosaries. She will be missed dearly by her family and all who knew and loved her.
Left to cherish her memory include her husband, Dale Fogerty of Sun Lakes, AZ; son Glen (Carol) Fogerty of Scottsdale, AZ; daughter June (Kenneth) Abercrombie of Port Angeles, WA; grandsons Jackson Fogerty of Sydney, Australia, and Grant Fogerty of Scottsdale, AZ; brother Don (Alice) Kramer of Auburn, IA; sisters Mary Kanne of Carroll, IA, and Jane (Glenn) Soyer of Norwalk, IA; many nieces, nephews, extended family members and friends.
Shirley was preceded in death by her parents, Henry and Theresa Kramer; brother William Kramer; and brother-in-law Bill Kanne.
Mass of the Christian Burial will be held at 10:30 a.m. on Wednesday, July 17, 2019, at St. Joseph Catholic Church in Wall Lake, IA. No visitation is scheduled. Burial will take place at the Wall Lake Cemetery under the direction of Farber & Otteman Funeral Home of Wall Lake, IA.