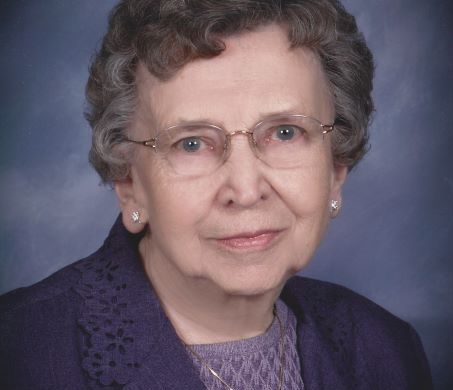 Ruthana Witt, age 95, of Carroll passed away on Thursday, August 15, 2019 at St. Anthony Nursing Home in Carroll, Iowa.
    Funeral services will be held at 10:30 A.M. on Tuesday, August 20, 2019 at St. Paul Lutheran Church in Carroll with Pastor John Schauer officiating.  Organist for the service will be Abe Batten.  Casket bearers will be her grandsons: John Witt,   Kevin Rowedder, Craig Rowedder, Christopher Rowedder, Matthew Bradshaw, and Stephen Vines.  Honorary casket bearers will be her granddaughters: Karla Schettenhelm, Krista Vines, Emily Witt, Ann Whitaker, Amy Wiederien, Angela Grundmeyer, and Kimberly Throop.
     Friends may call at the Dahn and Woodhouse Funeral Home in Carroll after 5:00 P.M. on Monday where there will be a prayer service held at 6:30 P.M.  The casket will be moved to the church at 9:30 A.M. on Tuesday where visitation will resume until the time of service.  Funeral arrangements are under the direction of the Dahn and Woodhouse Funeral Home of Carroll and online condolences may be left for the family at www.dahnandwoodhouse.com
    Ruthana was born May 13, 1924 at Westside, Iowa to Henry and Anna (Bornhoft) Schoessler.  She was the youngest daughter of six children.  Ruthana was baptized as an infant on June 17, 1925 at St. John Evangelical Church in Westside by Rev. Elmer Otte and was confirmed April 2, 1939.  She was a very talented pianist in high school, accompanying all vocal concerts and contests, as well as playing the trombone in band.  She graduated from the Westside Consolidated High School in 1941.
    After graduation, Ruthana was employed by the Westside State Savings Bank until her marriage on June 1, 1944 to George H. Witt. They lived north of Arcadia on the Witt family farm until 1975 when they moved to Carroll.  To this union, four children were born:  Gary, Merle, Deon, and Gloria. Ruthana was a loving, caring mother, grandmother, great-grandmother and great great-grandmother. She enjoyed tending her large garden and canning the produce, especially grandma's dill pickles. She was a charter member of the Arcadia ACE club as well as the Arcadia Cemetery Auxiliary.  Ruthana was a Ladies Aid member of Zion Lutheran Church in Arcadia and attended Senior Fellowship at St. Paul Lutheran Church in Carroll.  Ruthana was an accomplished seamstress sewing her own clothes, as well as her daughters, including Gloria's wedding dress and numerous bridesmaids' dresses.  Each grandchild received a quilt from Grandma and many craft items. George and Ruthana enjoyed dancing and playing cards with friends and neighbors.
     Ruthana is survived by a son Merle (Diane) Witt of Arcadia; two daughters: Deon (Dale) Rowedder of Carroll and Gloria (Ron) Bradshaw of Norwalk; a daughter-in-law Kitty Witt of Livonia, MI; twelve grandchildren: Karla Schettenhelm, Krista (Stephen) Vines, John Witt (Jill Thompson), Emily Witt (Jake Davis), Ann (David) Whitaker, Kevin (Patti) Rowedder, Amy Wiederien, Craig (Kara) Rowedder, Angela (Trent) Grundmeyer, Christopher (Lauren) Rowedder, Matt (Christina) Bradshaw, Kim (Jeremy) Throop; 34 great-grandchildren; 2 great great-grandchildren; and several nieces and nephews.
     Ruthana was preceded in death by her parents Henry and Anna Schoessler; her mother and father-in-law Pauline and George Witt Sr.; two sisters: Hattie Jensen and Rowene Wilken; three brothers: Walter, Arthur, and Leonard; her husband George Witt in 2004; her son Gary in 2018; and two grandsons: Brandon Millermon and Eli Rowedder