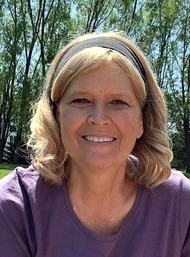 Renae J. (Rasmussen) Dunkelberger, age 59, of Ames passed away on Saturday, August 10, 2019 at Mary Greeley Hospital in Ames surrounded by her family.
    Funeral services will be held at 10:30 A.M. on Saturday, August 17, 2019 at Christ Community Church in Ames with Pastor David Staff and Pastor Mark Henderson officiating.  Casket bearers will be Brent Dunkelberger, Jenelle Dunkelberger, Cody Engebretson, Alli Engebretson, Ashley Dunkelberger, and Kari Henderson.
   Graveside services will be held at 2:30 P.M. on Saturday at the Scranton Township Cemetery near Scranton, Iowa.
   Visitation will be held at Christ Community Church in Ames from 5 – 7 P.M. on Friday evening.  Additional visitation will be held on Saturday on Saturday morning at the church from 9:30 A.M. until the time of service.  Funeral arrangements are under the direction of the Dahn and Woodhouse Funeral Home and online condolences may be left for the family at www.dahnandwoodhouse.com
    Renae was born on July 21, 1960 in Jefferson, IA, and she was the daughter of Calvin and Eileen (Slattum) Rasmussen.  She grew up on her family's farm south of Scranton and graduated from Scranton High School in 1978.  Following high school, Renae attended Dana College in Blair, NE.  She graduated from Iowa State University in 1982 with a Bachelor's Degree in Elementary Education.  She was married to David Dunkelberger on July 10, 1982 at Pleasant Ridge Community Church by Pastor Keith Ellis.  The couple made their home in Orange City until David graduated from college and they moved to Boone where she taught junior high English at Dayton Community School.  They moved to Ankeny in 1986, to Elkhart in 1989, and in 1993 moved out of Iowa living in Billings and Anaconda, MT; San Antonio, TX; and Waconia, MN before moving to Ames in 2012 to be near family.  Renae was a teacher and a tutor by trade, but helping and taking care of her family was most important to her.  She was a member of Christ Community Church in Ames where she served in the tech ministry with great energy.  She was also active with worship teams through her gift of music as well the classic choir.  She enjoyed playing games, watching movies, music, flower gardening, and attending her children's activities.   She thoroughly enjoyed being grandma/"mimi".  She loved making connections with people in the neighborhood and through her church.  She was last out the door due to socializing on most Sundays.
     Renae is survived by her husband Dave of 37 years of Ames; her daughter Ashley Dunkelberger of Ames; her son Brent Dunkelberger (Jenelle) of Lakeville, MN; her daughter Alli Engebretson (Cody) of Ames; a granddaughter Madelyn; her sister Juli Pritchett (Jim) of Ames; her brother Kevin Rasmussen (Jean) of Glidden; two sisters-in-law: Joyce Wilson of Knoxville, IA, and Julie Lockwood (Larry) of Pleasantville, IA; and several nieces, nephews, and cousins.
     Renae was preceded in death by her parents Calvin and Eileen Rasmussen; her mother and father-in-law Harold and Nanette Dunkelberger; two sisters-in-law: JoAnn Clausen and Maureen Rasmussen; and two brothers-in-law: Jay Clausen and Cliff Wilson.