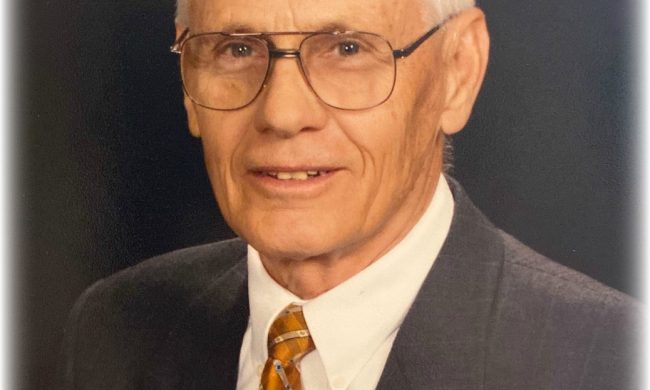 James David Stock, age 81, passed away on November 24, 2019, at his home in Lake View, IA surrounded by his family. Jim was born April 5, 1938, in Carroll, IA to Raymond Louis Stock and Etta Elizabeth (Meyer) Stock. Jim was baptized at the Manse House, Wheatland Presbyterian Church in Breda, IA and was confirmed March 29, 1953, at Peace Lutheran Church in Wall Lake, IA.  Jim attended Lake View High School and graduated in 1957. With a basketball scholarship he attended Morningside College, being inducted into the Morningside M Club. Earning his bachelor's degree, he graduated in 1961. He married Janet Joyce Paulsen of Guthrie Center, IA on June 18, 1961. Freshly out of college he joined the United States Marine Corp serving for 3 years as Officer in Charge of the Demolition and Landmine Warfare School at Camp Pendleton, CA ranking as a 1st Lieutenant. Jim and Jan had two children, Jody Jean and Julie Ann. Shortly thereafter, they moved to Minneapolis, MN. Eventually, they made their way back to Lake View, IA in 1968. James Dean, the surprise bundle, was welcomed into the family in 1973.
After military service, Jim worked for Magnetic Controls Co., in Minneapolis, MN. Once moving to Lake View, Jim and two high school friends formed Progressive Industries, Inc. with the purchase of Armstrong Popcorn Co. Progressive Industries later built Lake View Fabric Care Center. Jim and his friends expanded their business to include ventures in Arizona. Jim and Jan later purchased Progressive Industries Iowa changing the name to Stock Popcorn Company, and a couple years later built Carroll Fabric Care Center in Carroll, IA. Not only were Jim and Jan life partners, the two of them were business partners, working side by side for countless years.  At the young age of 14, Jim's passion for being church organist began. For 35 years he served The Lord at Emmanuel Lutheran Church, playing Sunday services, wedding and funerals. Up until his death he was still asking if he needed to play for church on Sunday.
Jim enjoyed helping Lake View and surrounding communities. Many of his activities and roles were what helped shape Lake View to what it is today. Jim was Charter President of Lake View Lions Club; member of Region XII Council of Governments; President and trustee of Emmanuel Lutheran Church; member of the American Legion, serving as Vice Commander; member of Stewart Memorial Hospital Board of Directors promoting the McCrary Roast Clinic in Lake View; member of the Lake View City Council serving as Mayor Pro Tempore; long-standing member of the Lake View Fire Department serving as treasurer for many years; one of the organizers of the Black Hawk Life Care Center; organizer of the Lake View Summer Water Carnival and worked many years on the Parade of Water Floats. Jim also enjoyed helping people in time of need and selflessly, always was there to help support anyone in need. Many additional actions were far too numerous to list and unknown by anyone but Jim and God.
Jim is survived by his devoted wife of 58 years, Jan Stock and their children Jody Jean (Jon Eric) Witzel of Severna Park, MD, Julie Ann Anderson of Crystal Lake, IL and James Dean (Jenny Rae) Stock of Lake View, IA and 8 grandchildren, Joshua (Kate) Souders, Catherine Witzel, Henry-James "Caleb" Witzel, McKinsey-Rae Abigail "Abby" Witzel, Amelia Anderson, Olivia "Livi" Anderson, Victoria "Tori" Anderson, and James "Gunnar" Stock. His surviving siblings include Norma Jean Hoeg, Jeanette Joyce Chambers and brother Daniel Owen Stock. He was preceded in death by parents Raymond Louis Stock and Etta Elizabeth Stock, as well as a brother Raymond Louis "Sonny" Stock Jr. and sister LaDonna Lou Phillips.
We wish to express our gratitude for your many kind prayers, thoughts and deeds and for attendance at this
service. The love and kindness that was shown by this community during Jim's illness surpasses all understanding.  It is with a loving heart that we thank each and every one of you.
Funeral services will be held at 10:15 a.m., Saturday, November 30, 2019, at Emanuel Lutheran Church in Lake
View, IA, with Reverend Donald E. Peterson III officiating. Interment will be at the Wall Lake Cemetery with
military graveside rites by the Marine Corp Funeral Honors Guard and the Eilert-Auen American Legion Post No. 133 of Lake View, IA. The Farber & Otteman Funeral Home of Lake View is in charge or arrangements.
Visitation is from 4:00-7:00 p.m., Friday evening, November 29th at Emanuel Lutheran Church in Lake View.