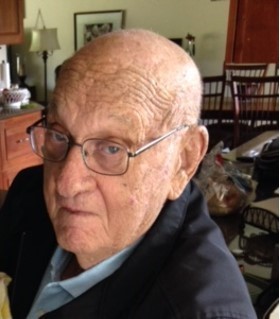 Herbert Bernard Drees went to join the Lord on May 22, 2019 due to a massive stroke.
A funeral mass will be held at 10:30 a.m., Friday, June 21, 2019 at Sacred Heart Catholic Church in Templeton with Fr. Mark Stoll officiating.  Burial will be in the parish cemetery.
Visitation will be held from 5-7 p.m., Thursday, June 20, 2019 at Sacred Heart Catholic Church in Templeton.  There will be a Christian Wake Service at 7 p.m.  Additional visitation will be held an hour prior to services on Friday.
Funeral arrangements are under the direction of the Sharp Funeral Home in Carroll and online condolences may be left for Herb's family at www.sharpfuneral.com.
Herb was born on May 25, 1928 in Templeton, IA to Marie (Sextro) Drees and Henry Drees.  He was the oldest of 5 children and grew up on the family farm outside Templeton.  He attended Sacred Heart Catholic school and finished his high school years and graduated from Carroll public school.  Herb joined the Army and served in Korea until he was wounded.  When he was discharged he came home and helped on the farm.  He was a proud member of the DAV, a 60 year American Legion member and commander, and was a past Grand Knight with the Knights of Columbus.  Herb met the love of his life when she came to the farm with her mom to pick apples.  Carol Lee (Drake) Drees is from Coon Rapids, IA a town about 20 miles from Templeton.  He courted her about a year and when he was 27 and she 21 they married.  Herb passed away just days before their 64th anniversary.  Herb, Carol and their family lived in Templeton, IA; Waterloo, IA; Merrill, IA; Fall Creek, WI; and Altoona, WI.  They settled and lived longest in State Center, IA where they have close friends.  After Herb retired they wintered in San Juan, TX.
Herb is survived by his wife Carol of Cheyenne, WY; his children Pam (Roger) Rehurek of Cheyenne, WY, Audrey (David) Bourgeois of Cheyenne, WY, Kirk (Pamela) Drees of Cedarburg, WI, Lisa (Steve) Ramirez of Germany and Eric (Cami) Drees of Wilson, KS; his brothers:  James Drees of Manning and Dean (Ruth) Drees of Manning; and his sister Joan Bauer of Manilla.  Herb has 9 grandchildren and 2 great grandchildren with 2 on the way.  Herb is joining his mom, dad, and sister, Mary Lou with other relatives and friends in heaven.