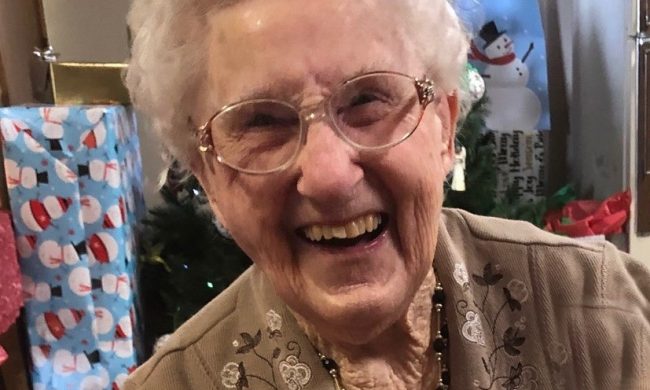 Mass of the Christian Burial for 98 year old Florence Bruening of Carroll will be celebrated at 11 am Friday, at Holy Spirit Church in Carroll.  Burial will be at 1:30 p.m. Friday at Our Lady of Mt. Carmel Cemetery in Mt. Carmel. The Carroll Catholic Daughters of the Americas, Legion of Mary, and the Breda American Legion Auxiliary will form an honor guard for the funeral mass.  Visitation will be held at Holy Spirit Church beginning at 10 a.m. Friday morning.  Funeral arrangements are under the direction of the Sharp Funeral Home in Carroll, and online condolences may be left for Florence's family at www.sharpfuneral.com
Florence, the daughter of George and Mary (Goetzinger) Masching was born on January 29, 1921 at Carroll, Iowa. Florence grew up near Roselle, and attended school at Holy Angels School in Roselle.  While growing up Florence helped her parents operate their dairy.  On October 3, 1945, Florence was united in marriage to Norbert Bruening at Holy Angels Catholic Church in Roselle. The couple made their home in the Mt. Carmel area, where they were active in grain and livestock farming. Florence enjoyed fishing, playing cards, quilting, sewing, and attending many dances with her husband Norb. She was a former member of Our Lady of Mt. Carmel Parish, Choir, and Ladies Guild, current parishioner of St. John Paul II Parish, Legion of Mary, Breda American Legion Auxiliary, and the Catholic Daughters of the Americas.
Florence is survived by her sons: Wayne (Jane) Bruening of Mt. Carmel, and Neal Bruening of Carroll; three grandchildren: Ross (Allie) Bruening of Omaha, and their children: Gus and Hank; Ryan (Sarah Billmeier) Bruening, and their children: Landan, Linkin, Ameila, and Avah; and Chelsea Bruening of Denver, CO; a sister, Louise Klocke of Carroll; and a sister-in-law, Margie Masching of Hayfield, MN; as well as many nieces, nephews, and other extended relatives.
Florence was preceded in death by her parents; her husband Norbert in 1991; her siblings: Mildred (Clarence) Morman, Norb (Velma) Masching, Paul Masching; 2 siblings in infancy; a brother-in-law, Wilbert Klocke; her parents-in-law: John (Catherine) Bruening; and her brother-in-law, and sister-in-law: Vincent (Lillian) Bruening, and Pauline (Frank) Vonnahme.