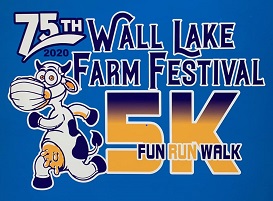 This year marks the 75th annual Wall Lake Farm Festival, and organizers had hoped to host a larger than usual event to celebrate the occasion. Unfortunately, the COVID-19 pandemic has thrown a wrench into these plans, and they were forced to cut back on many of the planned activities to comply with recommendations from local health officials. As a result, they have shortened this year's Farm Festival to just a single day on Saturday, Aug. 15. However, Co-Chair, Brandon Aschinger, says many of the highlights of the event remain on the schedule.
Registration for the 5K Fun Run/Walk is available online for $20 per person and includes a t-shirt. A link to the sign-up forms can be found included with this story on our website. The Farm Festival parade begins at 11 a.m. with the beer garden opening to the public at noon. According to Aschinger, they have made adjustments to many of this year's activities to create an as safe-as-possible environment for Farm Festival.
He adds they are in the process of acquiring hand washing and sanitizing stations for attendees during the event. Face coverings will not be required during Farm Festival, but organizers are encouraging people to wear one when social distancing is not possible. Aschinger says the Wall Lake Fire Department will be hosting two fundraisers on the 15th: the pancake feed and a gun raffle. Those raffle tickets can be purchased from any department member for $5 each or three for $10.
Due to the cutbacks to this year's event, Aschinger says the 2021 Farm Festival should be bigger and better than ever. More information can be found below.
_____
7 a.m.-11 a.m.—Wall Lake Fireman Pancake Breakfast
8 a.m.—5K Run/Walk
11 a.m.—Parade
12 p.m.—Beer Garden opens
2 p.m.—Bags Tournament
8 p.m.–Free Brad Morgan concert in Beer Garden