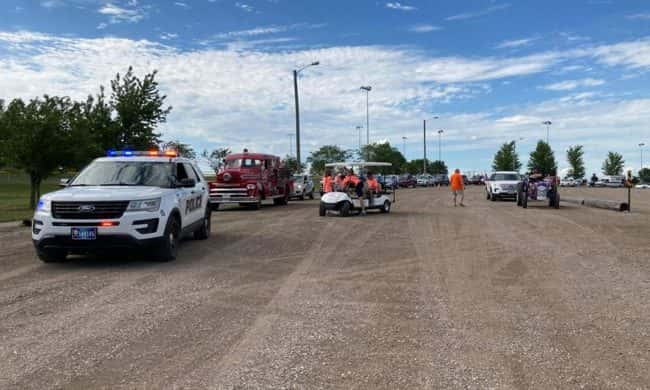 This past Friday night, between 50 and 60 vehicles took part in Cruising for a Cure, the Carroll County co-chairs' revamped 2020 American Cancer Society (ACS) Relay for Life event. Co-chair, Brigit Pick, says it was a wonderful sight to see.
It wasn't only the cancer survivors, Relay teams and sponsors who drove in the parade. They were joined by people and groups who just wanted to show their support, like an area school's Future Farmers of America (FFA) chapter that participated in the hour-and-a-half parade. ACS Relay Specialist, Kim Durst, says it was truly heartwarming to see so much support in such a difficult year.
Pick says all of the organizers owe a big thank you to everyone involved.
The luminaria and grab-and-go meal donations raised more than $5,300, bringing this year's total to $40,000 so far. Durst says this is phenomenal, especially in light of the fact that COVID-19 wiped out their original plans early this spring.
Durst and Pick say even though the world has been focused on COVID-19 this year, the need to support cancer patients and the research to find a cure is still critically important. Their very mission is at risk because this pandemic has hit people physically and financially and put further strains on cancer patients. The Relay for Life fundraising, however, is not done. Many teams have postponed their annual events and are still planning to hold these once restrictions lift even further and donations can still be made throughout 2020 at www.relayforlife.org/carrollcountyia. General or team donations can be made on that site or money can be dropped off at Bank of the West on East 7th Street in Carroll. Durst and Pick say whatever someone can give is greatly appreciated.