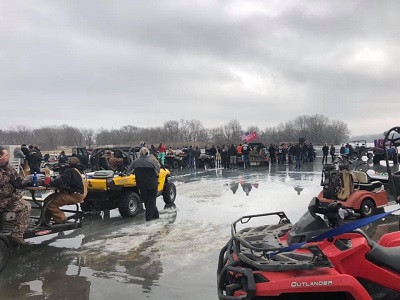 Registration is now open for one of the Black Hawk Men's Club's most popular annual events, the Lake View Arctic Open. This year's winter golf classic on the lake is scheduled for Saturday, Feb. 1 and marks the 31st time it has been held. Colton Wicker, Black Hawk Men's Club president and one of the Arctic Open's organizers, says many people in the community look forward to it every year.
Registration for the three-person best ball tournament is $75 per team and can be completed by calling 515-231-2408, contacting any of the men's club members or at the Camp Crescent campgrounds from 11 a.m. to noon on before teams tee off. Participants will take to the ice to starting at 12:30 p.m. to test their golf skills during wintry conditions. Wicker says organizers will be keeping a close eye on ice conditions over the next three weeks.
The latest reports from the Iowa Department of Natural Resources (DNR) shows ice thickness in west central Iowa ranges from three to eight inches, but conditions are expected to improve with forecasts showing temperatures below freezing for the next 10 days. He adds they have already scheduled make-up dates for Feb. 8, Feb. 15 or Feb. 22 if thin ice prevents them from heading out onto the lake as originally planned. In addition to being one of their most popular events, the Arctic Open is also their biggest fundraiser.
For more information about the 31st Annual Lake View Arctic Open and the Black Hawk Men's Club, follow the link included with this story on our website.
_______
https://www.facebook.com/BlackHawkMensClub/?__tn__=%2Cd%2CP-R&eid=ARBPQAcFfokVVNIVpDdtbwI0blb_plPnXDknu7qebonqKxA6y-Wkk5QerwJZRcYjdWziPAEr3alxAteu