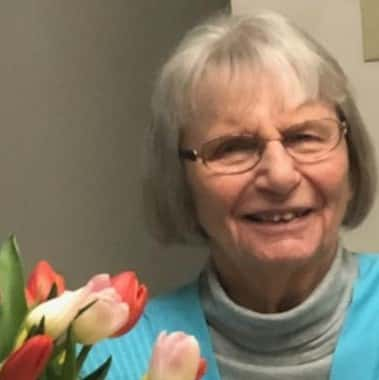 Miriam Ruth (Hermann) Mueller, age 94, of Seal Beach, CA, and formerly of Lidderdale passed away on Friday, July 24, 2020 at her home in Seal Beach.
     Graveside services will be held at 2:00 P.M. on Saturday, August 8, 2020 at Immanuel Lutheran Cemetery in Lidderdale.  Arrangements are under the direction of the Dahn and Woodhouse Funeral Home in Carroll and online condolences may be left for the family at www.dahnandwoodhouse.com
     Miriam Ruth Herrmann Mueller, the ninth of thirteen children, was born to Rudolf and Louise Paul Herrmann on February 2, 1926, in Blairstown Iowa. On March 7 of that year she was baptized by her father, Pastor Rudolf Herrmann, at Grace Lutheran Church and moved with her family on August 1, 1927 to Lidderdale, Iowa. She attended Immanuel Lutheran Elementary School and was confirmed in the Lutheran faith by her father on April 2, 1939.
     After graduating from Carroll High School in 1943, she worked for several years in a lawyer's office before moving to California in January, 1947. She continued as a legal secretary in California for many years with short stints working in the Los Alamitos School District and at California State University, Long Beach.
     Affectionately known as Bebe, in 1954 she married Roland John Mueller at Good Shepherd Lutheran Church in Inglewood. While living in Inglewood, Torrance, and Seal Beach, she was active in the Walther League, Lutheran Laymen's League, Lutheran Women's Missionary League, Parent-Teacher League, Legal Secretaries, and the Los Alamitos High School Band Boosters, serving most of those organizations as president and in other capacities. She was a founding member of the Safari Club and enjoyed the close relations that characterized that group of long-time friends.
     When her youngest child started kindergarten, Miriam enrolled in Long Beach City College at the age of 48, earning an Associate of Arts degree in 1979. Transferring to California State University, Long Beach, she was awarded a Bachelor of Arts degree with a double major in journalism and speech communication, graduating cum laude in 1982. Her last employment was in the editorial department of the Gazette Newspapers in Belmont Shore, Long Beach, where she worked for more than six years.
     Her marriage was blessed with four children, six grandchildren, and two great grandchildren. She is survived by two sons and one daughter: Dr. John Mueller and his wife, Anita, of Machesney Park, Illinois, the Rev. Dr. Steven Mueller and wife Nina, of Lake Forest, and Sarah Manzanares and husband Dr. Daniel Manzanares, of Peoria, Arizona. She leaves grandsons: Matthew, Christopher (Tina), and Jacob (Alyssa) Mueller, born to Steven and Nina, and granddaughters Jana and Leah Mueller born to John and his late wife Lori, and Hannah Manzanares, born to Sarah and Dan. She also leaves great grandchildren Luke (son of Christopher and Tina), and Spencer (son of Jacob and Alyssa). Also surviving is one sister, Marnette Cross of Fort Dodge, Iowa, sisters-in-law Fran Herrmann of Green Valley, Arizona and Irene Ringers of Crown Point, Indiana, and many nieces and nephews.
     She was preceded in death by her husband of 61 years, Roland, daughter Martha, daughter-in-law Lori, her parents, three sisters, eight brothers, three brothers-in-law, and four sisters-in-law. A life-long Lutheran, she was a member of Bethany Lutheran Church, Long Beach, at the time of her death.
     She designated two memorials:
The Theology Department of Christ College, Concordia University Irvine
1530 Concordia West, Irvine, CA 92612-3299
The Rev. Rudolf Herrmann Scholarship Endowment Fund
801 Seminary Place, St. Louis, Missouri, 63105-9677