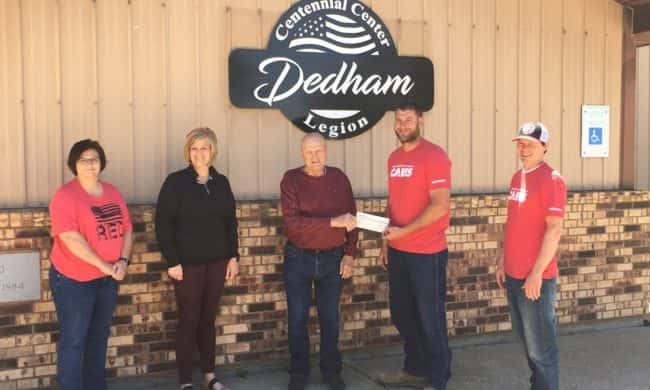 Pictured (L-R) Renovation Committee Member, Molly Klocke; Booster Club Treasurer, Jackie Mertes; Dedham Mayor and Legion Member, Bob Sporrer; and MidAmerican Energy employees, Rob Conley and Justin Harvey.
MidAmerican Energy presented a $10,000 check to the City of Dedham afternoon to help fund the estimated $150,000 in ongoing renovations to the Dedham American Legion Hall. The project is a joint effort by the Hall Renovation Committee, consisting of members from the City of Dedham, Dedham American Legion, Dedham Booster Club and multiple other community organizations. Booster Club Treasurer, Jackie Mertes, says they started raising money for the renovations in early 2019 and quickly raised enough for the first substantial improvements.
Initially, the total project cost was estimated to be around $100,000. After contractors got to work, the committee soon realized the renovations they wanted to make would likely cost closer to $150,000. They ran into some funding issues and decided to reach out to MidAmerican Energy. The company quickly put their support behind the project after learning what it was for, and Mertes says their donation has put them another step closer to getting back to work.
Including MidAmerican Energy's donation, the city is now only $39,000 short of their goal $150,000 goal. According to Mertes, this gift is one of their largest to date. However, she says a bulk of their donations have come from smaller, private donations.
If you would like to make a donation, checks can be mailed to renovation committee using the form included below this story. The Dedham American Legion Hall was constructed in 1984, and these improvements are the first in its nearly 40-year history.
_____