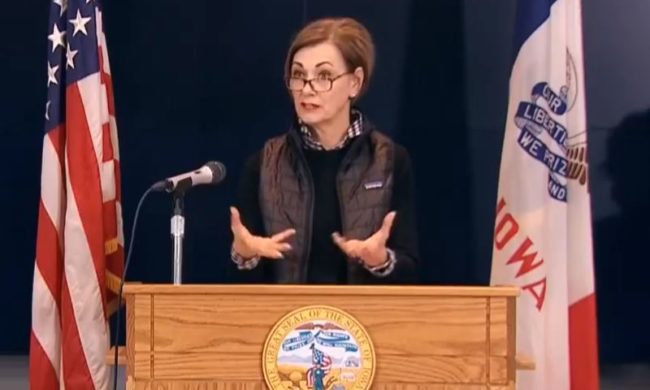 Gov. Kim Reynolds provided more details on what types of economic aid packages are being made available for Iowa companies during her press conference this (Monday) afternoon regarding the COVID-19 pandemic. On Saturday, the U.S. Small Business Administration (SBA) issued a disaster declaration for the entire state of Iowa. In addition to the low-interest loans made available by this declaration, Reynolds introduced the state-based assistance developed by the Iowa Economic Development Authority (IEDA), Iowa Department of Revenue and Iowa Workforce Development (IWD).
Reynolds acknowledged these measures will not make up for the mandated closure of bars, restaurants and other businesses but is optimistic it will help many of them weather the economic slowdown. IEDA Director, Debi Durham, explained the prerequisites for participation in the state's economic aid.
Applications will be available at 8 a.m. tomorrow (Tuesday) and must be submitted by noon on Tuesday, March 31. A link to the application materials can be found below this story. Late last week, the IEDA released a survey to gauge the impact of the coronavirus on Iowa businesses, and the more than 12,000 responses received so far suggest the accommodation and food-service industries are being hit hardest. A growing number of governors have issued orders requiring residents to avoid unnecessary trips outside their homes. According to Reynolds, Iowa has not reached that point yet.
Reynolds added she believes the current recommendation for increased social distancing will be sufficient to slow the spread of COVID-19. However, she indicated staff from the Iowa Department of Public Health is continuously evaluating the situation and would be willing to make that decision if the data supports it.
_____
https://www.iowaeconomicdevelopment.com/our-agency-detail-resources/6710