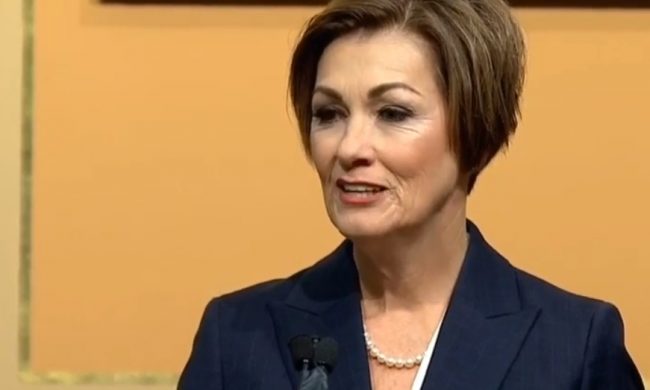 Iowa Gov., Kim Reynolds, presented her 2020 Condition of the State address this (Tuesday) morning; the second day of the legislative session. The third time was a charm for Reynolds who received numerous standing ovations during the 50 minute speech on her priorities for the year. She started off with a promise to those Iowans devastated in 2019 by something out of their control, the weather and historic floods.
Following on the heels of the This Is Iowa campaign of 2019, Gov. Reynolds is initiating the Invest In Iowa Act. The bill will cut income taxes, create a sustainable funding source for our mental health system, reduce the burden of property tax payers and fund the natural resources and outdoor recreation trust.
Part of that is to go toward preservation and in changing the formula on how funds from the Natural Resources and Outdoor Recreation Trust are distributed. This will include $52 million committed to other conservation and outdoor recreation efforts. Reynolds says the act will also help them make good on a promise to offset any sales tax increases with decreases in other taxation on Iowans.
And the initiative will also address the mental health crisis across the state. Two years ago the adult mental health system was reformed and last year Iowa's first children's mental health system was created. Reynolds says now we must provide predictable funding. Currently, taxpayer support comes through their county to the local mental health regions.
Reynolds says she wants to chart the path for the next 10 years and invest in Iowa, giving every Iowan the chance to succeed. It's time, she says, to show the world that opportunity lives here. We will bring you more from Reynolds address on education, supporting our producers with increased funding for renewable fuels, protecting life through anti-abortion legislation, shoring up our infrastructure, addressing workforce shortages and providing affordable and accessible childcare for all Iowans.