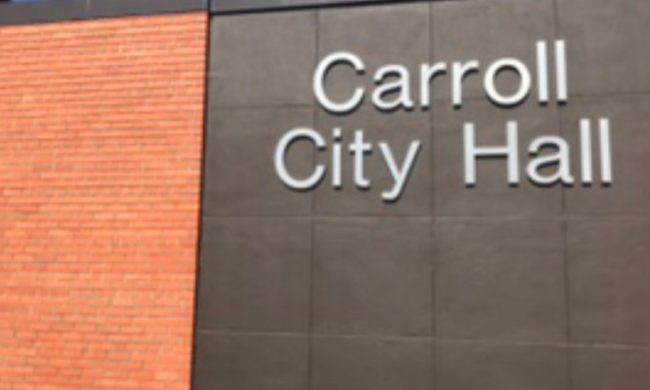 On Monday night, the Carroll City Council practiced social distancing and held their regular meeting utilizing technological means. Council and limited staff members were at City Hall while others phoned in to participate, as did some residents. And as with all other governmental agencies throughout the region and state, response to the Covid-19 outbreak was an item of note on their agenda. City Manager, Mike Pogge-Weaver, detailed some personnel policy changes for the declared emergency. These, he says are being done to ensure the continuation of essential services and five have been implemented to date. They have adopted a bad weather policy related to office closures, which states that while all city offices are closed to the public, full-time employees are expected to work from their office or take comp time.
The second relates to travel and quarantine requirements as detailed by the Iowa Department of Public Health (IDPH).
Any employee who has been subject to or has a household member who is quarantined will also need to be quarantined for at least 14 days. Pogge-Weaver says sick, comp and other benefits could be used to cover this absence. Consideration of those employees whose childcare providers may have closed was also made.
The final change is that employees will be allowed to accrue negative compensation time during this state of emergency. Pogge-Weaver stresses this is a fluid situation and will be adjusted as necessary. Congress has approved legislation that will extend the Family Medical Leave Act (FMLA) so that any employee who misses work because of the outbreak will be covered under the emergency expansion. It also provides for paid sick leave. Steps to ensure that employees are available to continue with essential services for residents have already been initiated.
The Carroll Fire Department is also operating under a similar structure at this time. The council approved these personnel policy changes and then approved a motion that the disaster period coverage become effective retroactively from Monday, March 16. A copy of the policy can be found below.
____________________________________
Section 26. DECLARED EMERGENCIES During such times that the City is operating under an emergency proclamation signed by the Mayor of the City of Carroll. The Carroll City Manager. as authorized and empowered by the Mayor shall make any and all changes to the City Personnel Policy as he/she sees fit in order to protect staffing and in order to protect the delivery of essential services during the time of the emergency. All changes made under this section shall expire upon expiration of the emergency proclamation.
Section 21e. CONCLUSION All City employees help provide the services that the citizens of the City desire, pay for, and expect. Good streets, excellent water systems, enjoyable parks, good community planning, police and fire protection do not just happen. We know that you, too, will give your best effort to provide the people of this community with the service that they can expect. It is not an easy task, but it is worthwhile. Everyone with the City organization wishes you well on your job. We hope that your working relationship with the City is long, pleasant, and rewarding.